Solar Ice Lined Refrigerator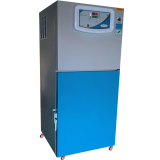 Solar Ice Lined Refrigerator
Alarms –12 Types
Cooling Backup – 10 Days+ Hours in case of power failure
Anti Freeze Technology – Never Freeze below 4 Degree
Advance PLC Based Micro Controller
Inbuilt USB and Data Logger
Real Time Clock and Calendar Setting
Brushless DC Motor With Zero Maintenance

Why choose Meditech  Solar Ice Lined Refrigerator with Anti-Freeze technology?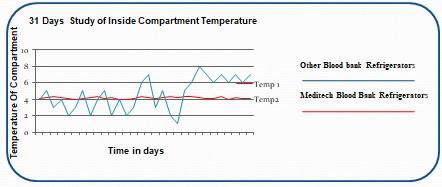 Guaranteed never to freeze vaccines: Research suggests that more than 75% of vaccine shipments are exposed to freezing temperature at some point during their time in the cold chain. Meditech Anti-Freeze technology guarantees never to freeze vaccines. The unique technology limits the temperature variation in the cabinet to less than 1˚C. This eliminates the stratification and freezing problems found in conventional solar ice lined refrigerators and ensures vaccines are kept at a constant safe temperature.
Minimizes thermal shock:
Damage can occur to vaccines through a single exposure to heat when there is a power loss. It can also occur through several short exposures to heat when standard equipment fails to meet the twin challenges of high ambient temperatures and unreliable electricity supply. Meditech Solar Ice Lined Refrigerator with Anti-Freeze technology are different. They deliver outstanding performance with as little as 2½ hours of electricity per day at high ambient temperatures. If the power goes off completely, Meditech can keep vaccines at a safe temperature for 3 days or more, even with the refrigerator in normal use.
Patented Anti-Freeze technology:
Meditech solar ice lined refrigerator works on the principle that water is at its densest at 4˚C. Water, not ice, surrounds a Meditech refrigeration compartment. When power is supplied to the refrigerator, the water cools and ice is formed above the compartment leaving only water at 4˚C cooling the contents. When the power is switched off, the water warms and rises while the ice begins to melt. This keeps only water at a perfect 4˚C cooling the contents of the compartment. The ice lined refrigerator can operate like this, without any power whatsoever, for many days
A sound investment:
Vaccines are a major investment. Over the course of its lifetime millions of dollars worth vaccines will be stored in it. Thousands of lives will depend on its performance. It makes sense to invest in a solar ice lined refrigerator that can ensure the safe storage of vaccines even under the most challenging conditions. An inferior refrigerator is a false economy and one that could cost lives.
Uncompromised cooling
Anti-Freeze technology limits temperature variation within the cabinet to less than 1˚C and guarantees never to freeze vaccines.
The technology provides exceptionally long holdover times to cope with periods of no power.
Ice never forms on the cabinet walls of solar ice lined refrigerator – no risk of freezing and no need to ever defrost the refrigerator.
Compliant with International Standards
All models are being independently tested for WHO pre-qualification.
All models are extensively tested to simulate the harshest environmental conditions upto 45 degree C
Independent study confirms Anti-freeze technology provides dependable cooling – protecting life saving vaccines
Model

MTBTS01

MTBTS02

MTBTS03

Dimensions (WxDxH) mm

795 x 750 x 1220

795 x 750 x 1820

795 x 750 x 1820

Gross Storage Capacity (L)

57.7

121

276

Vaccine Storage Capacity (L)

46.5

99

225

Energy Consumption Stable Running

0.56 kWh/ 24 hours

 0.75 kWh/ 24 hours

 1.1 kWh/ 24 hours

Energy Consumption Cool Down Test,

0.64 kWh/ 24 hours

1.90 kWh/ 24 hours

2.60 kWh/ 24 hours

Refrigerant

R134a

PQS Code

E003

Weight (Kg)

125

160

185

Quality Standard

ISO 9001:2008

Holdover Time Holdover

3+ days

Controller

Adanvce LED Controller
Download catalog