Hot Plate Stirrer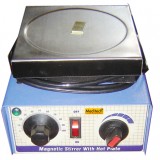 Hot Plate Stirrer
Meditech Technologies India Private Limited is the largest manufacturer and exporter of hot plate stirrer in India.
The hot plate stirrer rune on low speed high torque DC motor. It has stainless steel heating plate on the top.The salient feature of the hot plate stirrer is even torque even at lower speed. The Stirrer is programmed to maintain stability with change in volume and viscosity of the liquid.
Our wide range of Magnetic Stirrer With Hotplate we offer are acknowledged for their heavy duty. These Hot Plate Stirrer are available with stainless steel hot plate, tray with drain, and also come with PMDC motors. These motors distribute torque even at lower speeds and maintain speed stability despite viscosity or volume changes.
Salient Features of Hot Plate Stirrer:
1. The DC motor is designed to produce high torque at any speed.
2. Meditech stirrer is the most economic around the globe.
3. There is a accurate control of speed with the help of knob.
4. Stirrer comes with spillage tray
5. Fumes cannot enter the unit
Technical Specifications:
1.Maximum amount of water than can be stirred is 5 liters.
2.Adjustable speed is 100 to 1000 rpm
3.Electrical Supply 230/110 Volts