Single & Three (2+1) Channel
Easy to operate-even by a beginner
Designed on the concept of couples for specific recordings
High sensitive
Rugged
Versatile
Accurate
Reliable
Low Cost
Time & Event Channel (Optional)
STUDENT PHYSIOGRAPH is used for the recording of Bio-Electrical Potential e.g. EEG, ECG, ENG, EMG, Pulse, Respiration, Blood Pressure etc. It is made of light metal for compactness and lightness. Its performance is outstanding due to adoption of integrated circuits.
Each unit is so designed that a trouble free, simple and precise operation is possible. Appearance is very smart and compact for ease of carrying.
STYDENT PHYSIOGRAPH comprises of:
Main Console
Couplers
Transducers
Accessories like electriode.
Main Console
The main console houses
Chart Drive
Ink Pen recording system
Main Amplifier
Housing for plug in couplers
Electronically controlled 9 chart speeds provided are .5,1,2,5,10,20,25,30 & 50 mm/sec. Any other speeds are provided against specific requirements.
Speed selection is easy and instantaneous.
Channel width is 70 mm
Ink writing pen is 120 mm in length to minimise arc distortion.
The main Amplifier is fitted in the console having switch selectable sensitivity range from 50 microvolts per cm to 100 millivolts per cm in eleven steps as 50,100,200,500 µv/cm and 1,2,5,10,20,50,100 mv/cm
Couplers:
Different couplers are designed to record different parameters. They are modular interchangeable in the same console or from console to console and one can easily plug them in or out in few seconds. The standard range of couplers is as follows:
Biopotential Coupler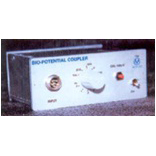 For recording all AC phenomena like ECG, EEG, EMG,ENG etc. It is supplied with 3 pin junction box, EEG-EMG electrodes and paste etc.
EKG Coupler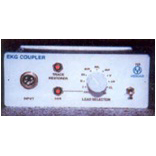 For recording clinical ECG. It is supplied with 5 pin junction box, Limb & Chest electrodes and Jelly.
Straingage Coupler: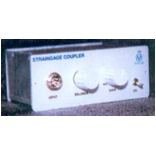 For recording from all straingage transducers and used to record muscle activity force, effect of drug on heart activity, Blood pressure from cannulated animals, volume changes etc
Pulse-Respiration Coupler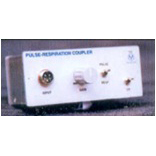 For recording pulse or respiratory activity using pulse, respiration Belt or respiration transducers.
Temperature Coupler:
For recording internal or surface temperature through transducers.
Isotonic Coupler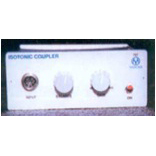 Using it along with isotonic fine movement transducer one can perform experiment on isolated uterus and isolated intestine
TRANSDUCERS
A Transducer is a device which converts one form of physical energy to electrical energy or vice versa. To record parameters which are not available in electrical form e.g. Pulse, Respiration, Temperature, Phono Cardiogramme etc., one needs to use appropriate transducer. We manufacture following transducers.
1.Pressure 2. volume 3. Muscle Activity/ Force. 3. Respiration Belt Isotonic Fine Movement. 4.Pulse . 5. Respiration (Thermistor). 6. Temperature Internal,  7. Temperature Surface,
Physiograph Stimulator – Optional
A turn controlled pulse Generator
MODE: SINGLE, External & Repetitive
PULSE WIDTH : 0.5 and 1.5 ms Switch selectable
Repetitive Frequency : 0.5,1.2,3,5,7,10,15,20,50 & 100 Hz
Twin Pulses: Provided. Delay adjustable from 5 to 250 ms
Output Voltage: 0 to 30 Volts (Two position 0-3 & 0-30 volts vernier controlled)
Accessories
The following accessories are provided free of charge with each console
Extra pen – 1
Fuses – 10
Chart Paper – 5 packet each of 250 sheets
Extra Cradle – 01
Earthing Cord – 01
Ink – ½ litre
Instruction Manual