Plasma Freezer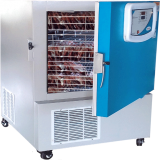 Plasma Freezer
Meditech is the largest manufacturer and exporter of Plasma freezer in India. Plasma freezer are available in a variety of configurations with temperature range from -20 to -86 degree C. Various sizes and configuration are available for different application, Plasma freezer is available in Touch Screen and Advance LED Configuration.
Features
Meditech plasma freezer are manufactured from special alloy steel CRCA powder coated and bacteria resistant. The Inner body is made up of stainless steel 304. The Plasma Freezer are widely used in Blood Bank and research centres for conservation of plasma and blood derivatives.
General Features

The Plasma Freezer is produced using CFC and HCFC free Eco friendly gases.
Temperature range from -10°C to -86°C with micro controller based PLC controller.  There is a digital display of set value and process value of various parameters like temperature and alarms.
Cabinet Construction
1.The cabinet of freezer is insulated with high density CFC free PUFF insulation and vacuum insulated panels.
2.Interior chamber is manufactured using corrosion resistant stainless Steel 304 with minimum 0.8 mm thick.
3.The exterior cabinet is manufactured with Anti Bacteria Blue Pure Polyester powder coated 1.0 mm thick CRCA Aircraft alloy Steel.
4.Stainless steel SS304 fabricated trays are provided for storage inside.
5. The plasma freezer are provided with handle and lock for safety and security.The door has magnetic gasket inside.
Refrigeration
1. Meditech plasma freezer has Heavy duty air cooled refrigeration system.
2.-86 degree Plasma Freezer works on cascade refrigeration system
3.Non-CFC and HCFC refrigerant is used.
4.There is Automatic evaporation of condensate and auto defrost system
5.Auto Defrost cycle is controlled with PLC Controller to maintain constant temperature
Temp Controller
Meditech plasma freezer comes with Touch Screen and Advance Led controller as option. Both are micro processor based PLC system.
with 12 types of Audio Visual Alarm
Audio Visual Alarm when the door is opened
Audio Visual Alarm when temperature deviates from preset temperature
Chart Recorder
7 days circular Chart recorder is provided for blood bank with USB and data logger