POLYGRAPH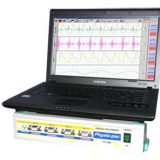 FEATURES
MEDITECH POLYGRAPH recorder is a highly sensitive oscillograph capable of simultaneously recording signals in different modes from any sources on a Z fold ink writing chart paper.
Polygraph recorder cab be used by medical professionals for recording of Bio-electric potentials. Eg. EEG, ECG, B.P., Pulses, etc. In industry for recording pressure, vibrations, temperature etc.
The modular concept in construction allows the assembly to be custom tailored to your exact performance requirement. A wide variety of signals can thus be recorded on a single instrument by the use of different amplifiers and appropriate transducers.
Polygraph Comprises of 1. Main Console. 2. Amplifiers. 3. Transducers. 4.Optional Accessories 5. Free Accessories
Main Console
Meditech manufactures console for simultaneously recording 8,4,6 and 2 parameters. A console for recording 4 parameters simultaneously is called 4 channel console and similarly for others. They are rack mounted on castors, However custom built consoles can also be manufactured.
The Main Console Houses
1. Stepper Motor control 10 speed noise free chart drive. The chart speed provided are 0.5,1,2,5,10,15,20,25,30&50. Any other speeds are provided against specific requirements.
2. Pen recording system which contains driver amplifier for galvanometers (modular), Ink well assembly. The pen is 120mm in length to minimize arc distortion. Pen cradle has adjustment tension spring
3. Power supply
4. Housing for amplifier
5. Pen length standard 120 mm to minimise arc distortion
6. "Z" fold, Ink writing chart paper
7. Time and event channel (Optional)
SALIENT FEATURES
1. Modular easily interchangeable pen motor
2. Frequency response 70 Hz
3. Silent chart drive
AMPLIFIERS- Any Four can be selected., SPHYGMOMANOMETER EKG PHONO PULSE AMPLIFIER will be optional.
They are modular interchangeable and one can easily plug them in or out in few seconds. One need to select an appropriate amplifier for the recording of a particular parameter e.g. for the recording of CLINICAL ECG one will have to select EKG PHONO PULSE AMPLIFIER OR SPHYGMANOMETER EKG PHONO PULSE AMPLIFIER.
FEATURES-Common to all amplifiers
Noise level less than 1µv.
Polarity reversals for recording and calibration.
High frequency filter averaging through filters
Calibration facility for each step of attenuation
50 Hz notch filter IN & OUT
Protective Circuitry against any accidental short circuit or mains error
UNIVERSAL BIOAMPLIFIER
UNIVERSAL BIOAMPLIFIER is a unique amplifier capable of conditioning almost all kinds of biological signals (AC & DC) from a low level of 10µv to a high level of 20mv. The bio signals like EEG, EMG, ENG, ERG, ECG, GSR are easily recorded by its use. By using appropriate transducers one can record Pressure, Force, Volume, Pulse, Respiration, Temp. etc.
ALL PURPOPSE AMPLIFIER
It is a low priced amplifier having facilities offered by universal BIOAMPLIFIER except that its maximum sensitivity is 50µv/cm and minimum 100µv/cm
DC AMPLIFIER
The amplifier has a sensitivity range of 10µv to 20mv/cm. The use of the amplifier is limited to record DC signals & to couple Meditech s Bridge transducers Pressure, Force, Volume and Temperature.
EKG PHONO PULSE AMPLIFIER
The amplifier provides a convenient means of recording the output of five electrodes in various combination. Using this amplifier ECG ( Electro-Cardiogram) may be recorded with clinical convenience and with fidelity for exceeding that of standard clinical electrocardiographs. A high sensitivity of 50µv has been provided. Thus low level signals like EEG, EMG etc, can be recorded on these amplifiers. It also accepts phono on these amplifiers. It also accepts phono cardiogram and photoelectric pulse transducer.
SPHYGMOMANOMETER EKG PHONO PULSE AMPLIFIER
This versatile amplifier does all the work done by EKG PHONO PULSE AMPLIFIER. This multifunction amplifier also measures blood pressure indirectly
AC AMPLIFIER
AC amplifier is a high gain AC amplifier intended to provide EEG recordings along with other AC surroundings such as EMG, EKG etc. It has two four position input selector switches, one each for G1 and G2. A cable with jacks labeled 1 through 4 and GND is provided. Hence a versatility of controls allows these amplifiers to be used as general physiological amplifier.
TRANSDUCERS
A Transducer is a device which converts one form of physical energy to electrical energy or vice versa. To record parameters in electrical form e.g. Pulse, Respiration, Temperature, Phono Cardiogramme etc., one needs to use appropriate transducer. We manufacture following transducers.
1. Pressure 2. volume 3. Muscle Activity/ Force. 3. Respiration Belt Isotonic Fine Movement. 4.Pulse . 5. Respiration (Thermistor). 6. Temperature Internal,
7. Temperature Surface, 8. GSR
Optional Accessories
Time and event channel: Time range 1 & 10 seconds. Event marker button pressing gives deflection opposite to time marker
Free Accessories
The following accessories are provided free of charge with each console
Extra pen – 1
Fuses – 10
Chart Paper – 5 packet each of 250 sheets
5 pin junction Box- 01
ECG limb electrode – 05
Extra Cradle – 01
Earthing Cord – 01
Ink – ½ litre
3 Pin juction Box- 01
ECG Chest electrode – 01
Instruction Manual
Student Stimulator – a Pulse Generator
MODE: SINGLE, External & Repetitive
PULSE WIDTH : 0.5 and 1.5 ms Switch selectable
Repetitive Frequency : 0.5,1.2,3,5,7,10,15,20,50 & 100 Hz
Output Voltage: 0 to 30 Volts (Two position 0-3 & 0-30 volts vernier controlled)