Ultra Low Freezer – For Ultra Low Freezing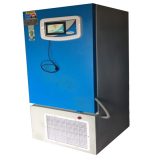 Ultra Low Freezer – For Ultra Low Freezing
European CE Certified Products Presafe DGM897
Meditech has the largest capacity production house for Ultra Low Freezer in India. These Ultra-Low Temperature Freezers are Different sizes and configuration ranging from advance microprocessor based PLC controller and 7″ touch screen series.
General Features of Ultra Low Freezer:
Meditech has rich experience of 30 Years in the filed of Ultra Low Freezer. They are designed for efficient inside space for samples and outside space for equipment. Ultra Low Temperature Freezers is widely used in Plasma, Primers, Cultures, vaccines and allied fields. Meditech is now a synonym in the field of cold chain equipment known for its Quality and technology across India and world.
Meditech Ultra Low Freezers are insulated using vacuum insulation panel (VIP) and CFC HCFC Free Puff Insulation for maximum thermal efficiency and low power consumption.
The Temperature of Ultralow Freezers is settable from -10°C to -86 °C with Advance micro controller based PLC controller.7 inch Touch Screen is available with advance remote monitoring options.
Cabinet Construction of Low Temperature Freezer:
The ultra low freezer is insulated with high density CFC and HCFC free PUFF 120 mm thick insulation and vacuum insulated panels.
The Interior chamber of ultra low freezer is manufactured using 304 stainless Steel 0.8 mm thick.
The Outer body is Sky Blue Pure Polyester anti bacteria powder coated (1.0 mm thick) CRCA Steel.
The door has a magnetic gasket to ensure temperature hold.
Storage trays are made up of stainless steel.
The ultra low chest freezer is also secured with handle and lock with keys.
Ultra low Refrigeration:
Meditech Ultralow Freezers has Heavy-duty air-cooled cascade refrigeration system.
CFC and HCFC Free refrigerant is used for greater efficiency.
Meditech Ultra Low Freezer is equipped with 12 types of audio visual alarms.
Seven days circular Chart recorder is available on request.