Arabidopsis Chamber MTAC26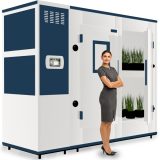 Arabidopsis Chamber MTAC26 – Multi Tier Reach In
Product Overview /Applications for Arabidopsis Chamber
The Arabidopsis Chamber MTAC26 offers a small footprint and a low overall height which allows the unit to pass through doorways fully assembled. The interior of the cabinet features two shelves and light canopies with a plant height that is suitable for growing low and medium height plants. This makes the Arabidopsis Chamber MTAC26 an ideal cabinet for growing such species as Arabidopsis from seed to full maturity. Also, the Arabidopsis Chamber MTAC26 is shipped fully assembled thereby simplifying installation and set-up procedures. Please consult Meditech regarding specific requirements for Arabidopsis Chamber.
Specification Of Arabidopsis Chamber MTAC26


Temperature Range

+10°C to +45°C lights on

Growth Area

26ft2 (2.4m2)

Growth Height 24"

(610mm)    Arabidopsis Chamber


External Dimensions

95" x 35" x 78" (2415mm x 890mm x 1980mm)


Internal Capacity

52ft3 (1471l)


Electrical Service

120/208-3Ø-60Hz (220/380-3Ø-50Hz)

Light Intensity

300 μmoles/m2/s


Growth Area

26ft2 (2.4m2) of Arabidopsis Chamber

Weight

1270lb (576kg)

Key Product Attributes of Arabidopsis Chamber MTAC26
• 26 square foot growth area over two shelves for low to medium height plants
• Shipped fully assembled – fits through standard doorways
• Precise closed-loop lighting control in micromoles/m2/s
• Product certifications/markings; CE
Lighting
Standard with the MTAC26 is a closed-loop lighting system (programmed in micromoles) which allows for precise and repeatable control of light output while also automatically adjusting for lumen maintenance. The standard lighting package provides a broad based light spectrum using both fluorescent and incandescent lamps. Standard light intensity is 300 micromoles/m2/s which is measured by a quantum light meter and transmitted to the controller for user readout. Lamp heat is controlled and managed by the refrigeration system.