Features of 21 CFR part 11
(a) 21 CFR part 11 USFDA compliant software with validation documents.
(b) Secured audit Trail.
(c) Multi level security password with aging and history.
(d) Electronic signature.
(e) Web based Ethernet and WIFI online remote monitoring.
(f) GSM alarm system for mobile alert.
(g)Data of door access security system in software with remote options.
(h)All the events, utility, working status, all the alarms are logged in the software.
(i)Records in graphical and in tabular form.
(j)Reports of mean Kinetic Temperature Reading.
(k)Works on 230V AC single phase 50Hz (country specific).
(l)Complete with extensive DQ, IQ, OQ and PQ protocols as per the International guidelines along with calibration certificates.
Web Based Software (SAIFIN53) – Remote humidity Chamber and  humidity Room Management
Access Anywhere Anytime!! Around the Globe
Instantly connect and control your Chambers and Rooms without installing software. For more than a decade, Meditech SAIFIN53 software has gained popularity among operators and end users for its reliability and ease. SAIFIN53 is available remotely via a web browser using internet facility. SAIFIN53 is designed to meet the increasing demands for improved efficiency. This web based software also adds extra capabilities of data logging, user-configuration and features of all alarm notifications via SMS and Email.
Features
(a) Eliminate the need for multiple software installations and Qualifications.
(b) Web based software accessible through browser.
(c)Compatible with server based Operating system, Android, Windows7/8/9/10.
(d)Ensure one-time software installation on your plants server and access the software anytime, anywhere through a web browser from any Desktop or Laptop (same LAN Network).
(e)View Status, take printouts or execute any of your tasks from anywhere.
(f)Department wise segregation of users, equipment & Data. (g) Harmonization of reporting format (header,footer,etc) and other such operations through the plant.
(h)Centralized user defined Alarms,alerts and Notifications through SMS & emails.
(i)Configure the type & number of alarms to be sent via email and SMS & configure delay time.
(j)Running time calculation of MKT and Moving Average.
(k)Component running hours to determine the shelf-life of major components.
(l)Real-time display of all connected equipment in single screen.
(m)Automatic data backup facility.
(n)System Diagnosis for troubleshooting via Team Viewer.
(o)Ethernet communication with chambers.
(p)Complying US FDA 21 CFR Part11
Key Features
(1) A Truly innovative data handling and communication options.
(2)Plug and Play fashion via Ethernet to connect local or plant networked PC or Laptop.
(3)One can view LIVE system parameters and historical graphs as well as receive alarms, reports, data log files over email.
(4)Settings with just a standard browser.
(5)Access live or stored data remotely within the facility (LAN network) of from anywhere in the world.
Stability  Tests plays an important step in the development of new drugs and pharmaceutical  substances. This is an indispensable element in the licensing process defined by  federal regulating authorities. However, these tests are just as important for  safeguarding the quality of the product within the framework of quality  assurance.
Together  with the help of experts in the pharmacy industry and  committees from the pharmaceutical industry and experts from the licensing  authorities (such as the FDA) have developed the ICH Guidelines for the harmonization  of stability tests. These guidelines define standardized storage and batch  evaluation as well as the time sequence of the required analytic tests

.
According  to the ICH Guideline Q1AR2, stability tests have to be performed under defined  climatic conditions in order to provide evidence of the stability of active  substances.
MEDITECH offers a range of humidity test chambers to meet these regulatory requirements as  well as stability testing requirements for other industry segments of Pharmacy, Drugs, tablets, Cosmetic, Food, Beverages, etc.
We  offer a centralized solution across all ICH conditions of real-time,  intermediate, accelerated & semi-permeable study conditions along with a  state-of-the-art 21 CFR Part 11 ready software that provide tools for viewing,  trending, alarm management, audit trails, MKT and many other such features.
(1) Humidity Chamber is manufactured on fully automatic CNC machines thereby giving consistency in performance and aesthetic look.
(2) CFC Free PUF insulation on automatic machine for better accuracy of Temperature and Humidity.
(3) Humidity Chambers are provided with effective air circulation system, refrigeration system, and humidity system.
(4) Full view observation of glass door, chamber illumination and stainless steel perforated trays
(5)Accuracy, Uniformity, Reliability and Economy.
(6)The chamber is manufactured as per the cGMP Regulations and designed for low electrical and water consumption.
(7)Stand by refrigeration system and stand by humidity system is provided on request.
(1) Humidity Chamber is provided with safety cut offs and alarms at centrally located places.
(2) Dedicated Safety system to shut off the humidity system and chamber shut down in case of overshoot or undershoot of temperature or humidity with audio visual alarm.
(3) Thermostatic safety system is provided as an additional safety feature.
(4)Low water level cut off for humidity system.
(5)Door open alarm.
(6) All the alarms and events are logged in the software.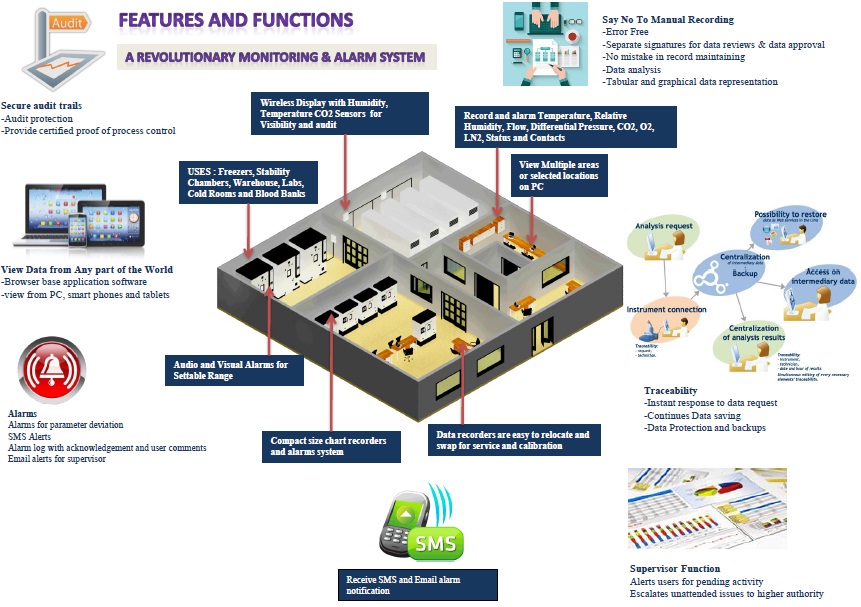 Features of Humidity Chamber Controller
(1) Microprocessor-based 7 inch Touch Screen PID controller.
(2) Auto tuning for accurate control of temperature and humidity conditions.
(3) Printer interface facility to store data and to print it directly on a printer.
(4) Direct % RH electronic capacitor type humidity sensor.
(5)Online connection of Touch screen to Computer via Ethernet using TCP IP Protocol for online mapping purpose and data logging.
(6)A PLC system for an auto changeover of standby systems and other event logging and monitoring purpose.
(7) GSM mobile alert module to give malfunction SMS on mobiles  simultaneously
(8)Door Access Security System with smart cards and bio-metrics.
(9)Network connectivity via Ethernet for web based online remote monitoring.
(10) Utility management system provided for continuous machines operations and cross checks.
Meditech patented ultrasonic humidifier MHumid® maintains accurate humidity inside the chamber. Within few seconds the humidity is maintained inside the chamber unlike conventional steam heating system.  95% more efficient than steam heating . Thus saving 95% of electricity
| Model | Litres | Inner Dimension WxDxH cm | Outer Dimension WxDxH cm | No of Trays |
| --- | --- | --- | --- | --- |
| MTBBR1 | 120 | 45x45x60 | 65x114x130 | 2 |
| MTBBR2 | 200 | 60x60x60 | 76x121x130 | 2 |
| MTBBR3 | 324 | 60x60x90 | 76x121x165 | 3 |
| MTBBR4 | 450 | 60x60x125 | 76x121x199 | 4 |
| MTBBR5 | 600 | 60x80x125 | 76x141x199 | 5 |
| MTBBR6 | 800 | 80x80x125 | 96x141x199 | 5 |
| MTBBR7 | 1000 | 80x80x155 | 96x141x225 | 5 |
| MTBBR8 | 2000 | 160x75x170 | 192x126x189 | 8 |
| MTBBR9 | 3000 | 190x80x200 | 224x131x219 | 12 |
Technical Data Of Proposed Humidity Chamber
(1) Standard Model(S): Inside S.S.304  & Outside Galvannealed Powder Coated mild steel. (2) GMP Model(G): Inside S.S. 316 with mirror polish & outside with SS 304 matt buff. (3) Temp. Range /Accuracy: 20°C to 60°C /± 0.2°C (4) Temp Uniformity : ± 1°C (5) Humidity Range and Accuracy : 40% to 95 % RH  and ± 2% RH (6) Humidity Uniformity : ± 3% RH
Meditech technologies India Pvt Ltd manufactures the most innovative humidity chamber series in humidity and temperature applications. These lines of chambers has both thermostatic (temperature only) versions and climatic (temperature humidity) versions.
Meditech has more than 25 years of knowledge , experience and expertise in the field along with feed backs from both customers and distributors. Meditech is highly successful in producing rich features and highly reliable chambers to fulfill customers testing needs.
With Meditech series, one has the ability to apply the laws of nature (temperature and humidity) and allow unknown (possible product defects) to reveal themselves. There shall be increase in reliability and robustness with every test performed on Meditech test Chambers