Solar Powered Refrigerator (Best & Efficient Refrigerators)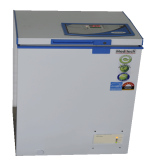 Solar Powered Refrigerator- leading innovations in refrigeration
European CE Certified Products Presafe DGM897
A solar powered refrigerator is a refrigerator which runs on energy directly provided by sun, and may include photo voltaic or solar thermal energy.
Solar powered refrigerators are able to keep perishable goods such as meat and dairy cool in hot climates, and are used to keep much needed vaccines at their appropriate temperature to avoid spoilage. Solar-powered refrigerators may be most commonly used in the developing world to help mitigate poverty and climate change.
Solar powered refrigerator Fridge and vaccine coolers use a combination of solar panels and tubular batteries to store energy at night and in absence of solar light. Meditech has launched economical, robust and affordable range of solar power refrigerators especially for hot climate conditions at 45 Degree C.In 1990s NASA began work on phase change material to store energy rather than using batteries. In 2000s Meditech Technologies India Private Limited studied on Anti Freeze technology to develop freezers . Solar powered refrigerator freezer are used by individuals living in remote Homes, remote stores, medical clinics, ice making, missionaries, micro enterprises, beverage vending and caravans.
Applications of Solar Powered Refrigerator-
Why Meditech Solar Powered Refrigerator- Bio Fresh Technology:
Meditech Solar Refrigerator presents Bio Fresh technology . It provides the ultimate technology for all health-conscious food lovers. With Bio Fresh, fruit and vegetables, meat, fish and dairy products retain their healthy vitamins, delicate aroma and appetizing appearance much longer than in a conventional fridge compartment.Discover Technology, Quality, Reliability and Repeatability. Meditech Solar powered Refrigerator are rugged and designed for extreme tropic climatic conditions. Save on costs with Meditech high efficiency refrigerators and freezers . It has exceptionally low energy consumption, requiring smaller, less expensive power systems and low operating expense.  High quality construction provides excellent reliability and long life.
Specification and catalog of Solar Power Refrigerator:
| | | | | |
| --- | --- | --- | --- | --- |
| Remote Homes | Unreliable grid | Micro-enterprises | Boats and Marine | cabins |
| Remote Stores | Ice Making | Beverage Vending | Eco-Resorts | Farms |
| Medical Clinics | Missionaries | Disaster Preparedness | Mobile Vendors | caravans |