Solar Vaccine Refrigerator Manufacturer and Supplier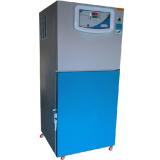 Solar Vaccine Refrigerator:
No. of Alarms –12 Types
Cooling Backup – 10 Days + Hours
Anti Freeze Technology – Never Freeze below 4˚C .
Advance PLC Based Digital Micro Controller
Data Logger and USB for data extraction
Real Time Clock and Calendar Setting
Brushless DC Motor With Zero Maintenance
Why choose Meditech  Solar Vaccine Refrigerator with Anti-Freeze technology?
Guaranteed never to freeze vaccines:
Meditech Solar Vaccine Refrigerator with anti-freeze technology guarantees never to freeze vaccines.This technology limits the variation of temperature to 1 degree within cabinet. This process ensures vaccines are kept at constant temperature above freezing point. This technology is far ahead of old solar vaccine refrigerator.
Minimizes thermal shock:
Thermal shocks is defined as variation in temperature above and below safety limit of a vaccine. Hence damage can occur to vaccine even if it is exposed to single thermal shock. Meditech solar vaccine refrigerators uses only 2½ hours of electricity per day at high ambient temperatures of 45 degree C per 24 hours. If power goes off , meditech vaccine freezers can keep vaccines safe for many days.
Anti-Freeze technology:
Meditech solar vaccine refrigerator works on the principle that water is at its densest at 4˚C. Only water surrounds the compartment of vaccine refrigerator. So when water is cooled with the help of refrigeration,an ice layer is formed above the compartment leaving water at 4˚C surrounding the walls. When the power is off, this ice layer melts and warm water rises up.This thermosyphon principle maintains the equilibrium automatically leaving only water at the walls. A solar vaccine refrigerator can work on this principle for many days without power.
A sound investment:
Millions of dollars worth vaccine are stored in solar vaccine refrigerator over the course of time. It makes sense to invest in technology that can ensure safer storage at most challenging conditions.
Uncompromising cooling:
Meditech, Solar Vaccine Refrigerator limits variation of temperature inside the cabinet to 1˚C. Anti freeze technology provides long holdover and never to freezer promise. No need of defrosting since there is no frost formation inside
Compliant with International Standards:
All models are being independently tested for WHO pre-qualification. ISO9001, ISO13485, ISO14001 and CE certified.
All models are extensively tested to simulate the harshest environmental conditions upto 45 degree C
Independent study confirms Anti-Freeze technology provides dependable cooling – protecting life saving vaccines
Specification of Solar Vaccine Refrigerator:
Model

MTBCM01

MTBCM02

MTBCM03

Dimensions (WxDxH) mm 

795 x 750 x 1220

795 x 750 x 1820

795 x 750 x 1820

Gross Storage Capacity (L) 

57.7

121

276

Vaccine Storage Capacity (L) 

46.5

99

225

Energy Consumption Stable Running

0.56 kWh/ 24 hours

 0.75 kWh/ 24 hours

 1.1 kWh/ 24 hours

Energy Consumption Cool Down Test, 

0.64 kWh/ 24 hours 

1.90 kWh/ 24 hours

2.60 kWh/ 24 hours

Refrigerant 

R134a

PQS Code 

E003

Weight (Kg) 

125

160

185

Quality Standard 

ISO 9001:2008, ISO14001, ISO13485, CE and WHO

Holdover Time Holdover 

3+ days

Controller

Adanvce LED Controller