Mushroom Grow Chamber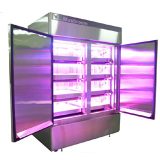 What is Mushroom Grow Chamber



A mushroom grow chamber or fruiting chamber is an artificial habitat that mimics weather conditions for the mushroom natural ecosystem. It is used to 'fruit' your substrate cakes and yield you mounds of fresh, highly potent fungi and mushroom.
Meditech Mushroom Fruiting Chamber – Principles of Operation
The Meditech fruiting chamber maintains the temperature, lights and humidifies with the help of electro mechanical devices.
Application of Mushroom Grow Chamber
The MTBBR Mushroom Grow Chamber is designed for growing mushroom under controlled temperature, light and humidity conditions. The growing levels within the chamber provide maximum growing space with the smallest foot print possible. Please contact Meditech with your specific needs and our experienced and trained staff will ensure you receive the right product and options for your application.
About Meditech Mushroom Grow Chamber
Meditech is the largest manufacturer and exporter of mushroom grow chamber in India. Meditech has satisfied clients all over the world. Meditech has production capacity for more than 100 chambers per month.
Construction of Mushroom Incubator
The exterior cabinet of mushroom fruit chamber is free standing. It is insulated with CFC free polystyrene blue-green baked enamel on Galvanized steel or Stainless steel based on request. The interior is a Stainless Steel reflective skin offering uniform light reflectance. The floor pan is constructed of 22 gauge stainless steel, sloped towards a drain. The machine compartment contains all the controls, and internal refrigeration system. Easy access to the compressor and refrigeration components is by an external maintenance panel. This means servicing is accomplished without disturbing the mushroom . All handles and door hinges are heavy duty chrome finish. Door has keyed magnetic lock, protecting researchers valuable experiments.
Refrigeration and Humidification of Mushroom Incubator
The growth chamber is supplied with a self-contained air cooled hermetically sealed condensing unit with hot gas bypass for continuous compressor operation, extended compressor life and close temperature control. Extended stem solenoids are used to promote quiet operation and a longer life. Humidity is produced with the help ultrasonic humidifier or heater as per customer demand.

Advantage of Meditech Mushroom Grow Chamber
The Chamber series of equipment has been developed to provide the researcher and producers with dedicated technology for the development of mushrooms. Multi tiers of growing space maximize the chamber's footprint, making the MTBBR extremely space-efficient and ideally suitable where laboratory space is limited. Engineered and tapered air-handling plenums ensure consistent air-flow into the chamber. This, in combination with lamp configurations and canopies that are designed to maximize light dispersion, ensure a high degree of uniformity of all conditions within the growing area. This degree of uniformity has proven to be necessary for the efficient growth of modified forms of this species. Electronically dimmable ballasts, in combination with a closed-loop light control system, and quantum light sensor allow the researcher to program and control light intensity in micromoles. All controlled parameters are managed and logged through Meditech's reliable 7" Touch screen controller giving the researcher maximum flexibility and documented results. Sound manufacturing principals, quality components and our ISO9001 quality control program ensures that this equipment performs as specified.
Lighting
The standard light intensity of mushroom grow chamber is 1000 micromoles/m2/s using T8 fluorescent lamps or LED Lamps adjustable from 10% to 100%. Dimming ballasts provide precise control over light intensity. Meditech own Closed-Loop Light Control maintains precise intensity of programmed levels from 100 to 1000 micromoles/m2/s.
Download Mushroom Grow Chamber
Specification of Mushroom Grow Chamber



MODEL
370 Litres
1000 Litres
Growth Range
3 growth areas (>1.1m2)

8 growth areas (>3.3m2)

Temperature Range

+10°C to +45°C

+10°C to +45°C

Temperature Fluctuation

±0.5°C @ 25°C

±0.5°C @ 25°C

Temperature Control Accuracy
±0.1°C

±0.1°C

Humidity Range

50% to 95% RH

50% to 95% RH
Humidity Uniformity

±5%

±5%

Humidity Control Accuracy

±1%

±1%

Humidifier Type

Ultrasonic Humidifier
and Heater
Ultrasonic Humidifier
and Heater
CO2 Control Range
(Optional)
Ambient - 5000ppm

Ambient - 5000ppm

Light Type

LED or FL T8 (blue, green, red, white)

LED or FL T8 (blue, green, red, white)

Light Intensity

up to 150 umols-1m-2 @15cm

up to 150 umols-1m-2 @15cm

Light Control

ON / OFF or 0% to 100% programmable

ON / OFF or 0% to 100% programmable

Program

Multi programs - multi steps

Multi programs - multi steps

Alarm

High and Low Temperature, Humidity alarm

High and Low Temperature, Humidity alarm

Data

Data Export by USB port

Data Export by USB port

Remote Control

Direct connection to unit by LAN to control HMI ( by Internet and Wifi in option)

Direct connection to unit by LAN to control HMI ( by Internet and Wifi in option)

Cooling System

Air cooled condensing unit / CFC free refrigerant

Air cooled condensing unit / CFC free refrigerant

Overview Dimensions

W890 x D720 x H1950mm

W1500 x D900 x H2100mm

Working Volume

370L

>1000L

Interior Material

Stainless Steel #304

Stainless Steel #304

Exterior Material

Coated steel / Stainless Steel

Coated steel / Stainless Steel

Insulation

PUF insulation

PUF insulation

Door

Insulated door

Insulated door

Growth Area

3 growth areas (>1.1m2)

8 growth areas (>3.3m2)

Growth Height

25-30cm adjustable (2.5cm steps)

25-30cm adjustable (2.5cm steps)

Safety Device

Overheat protection and low temperature protection / Door open alarm / Over load protection / Compressor delay start protection

Overheat protection and low temperature protection / Door open alarm / Over load protection / Compressor delay start protection

Power

Adapted to the user electric system

Adapted to the user electric system