Ice Lined Refrigerator 136 liters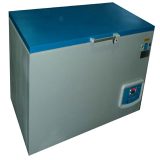 Ice Lined Refrigerator – 136 ltrs, 4.8 Cu ft



Meditech is one of the largest manufacturer of ice lined refrigerator in India. Ice Lined Refrigerator is used to store vaccine at at pre-determined temperature of 2 to 8 degree c. A vaccine contains an agent that resembles to threat causing micro organism. Hence keeping vaccines at proper defined temperature in refrigerator is important. This can be achieved using meditech ice lined refrigerator
All the meditech Ice Lined refrigerator are ISO9001, ISO13485, 14000,CE, WHO-GMP certified. Advance LED based PLC Controller is used to maintain Temperature. Accuracy of 0.1 degree C can be set in the controller of ILR.
A temperature backup of 24 to 72 hours is provided with the help of special ice lining. This ice lining is made up of Phase Change Material. A digital controlling back up is provided for 72 hours with the help of rechargeable battery in case of power failure.
High and low temperature alarms of ice lined refrigerator ensures damage to vaccines during power failure. Meditech ILR comes with Date setting, Time setting, High Temperature Alarm, Low Temperature Alarm, Hysterisis
and Compressor Delay.
Children are recommended to receive vaccinations as soon as their immune systems are sufficiently developed to respond to particular vaccines to provide best protection. Therefore ice lined refrigerators are widely used by World Health Organization.
Features
Ice Lined Refrigerator 136 litres features
| | | |
| --- | --- | --- |
| Reliable temperature between +2°C to +8°C | Only 8 hrs. of electricity needed per 24 hrs. at 43°C AMB | Self-regulating cooling system |
| Air flow system in vaccine compartment | External cabinet and internal liner pre-painted galvanized steel | Cooling coil of copper |
| CFC-free refrigerant and insulation | Compressor made for use in the tropics | Solid lid with handle and lock |
| 5 baskets for organized storage | Available in 220V-240V 50/60Hz + 115V 60Hz | Delivered in solid, wooden crate |
PLC Based Controller
| | | |
| --- | --- | --- |
| LIVE Data logger | LED INDICATION | User Friendly Settings |
| 1.Temperature | 1.Line In | 1.Date |
| 2.Incoming Voltage | 2.Power | 2.Time |
| 3.Ambient Temperature | 3.Comp On | 3.High Temp Alarm |
| 4.Time in hours of revolution chart | 4.Heater On | 4. Low Temp Alarm |
| 5.Current Date | 5.Battery On | 5. Hysteresis |
| 6.Current Time | 6.Battery Low | 6. Compressor Delay |
| 7.Battery Voltage | 7.Temperature High | |
| | 8.Temperature Low | |
| | 9.Sensor Fail | |
| | 10.Power Fail | |
| | 11.Chart Change | |
| | 12.System On | |
| | |
| --- | --- |
| Gross volume, litres(cu. ft.) | 136 (4.8) |
| Net volume, litres (cu. ft.) | 75 (2.6) |
| Temperature range, C° | +2 to +8 |
| Hold-over time during power cut at 43°C AMB, hrs | 24 |
| Power consumption per 24h, kWh | 1.89 |
| Refrigerant | R134a |
| No. of baskets | 5 |
| | |
| --- | --- |
| Height, mm (inches) | 840 (33.1) |
| Width, mm (inches) | 920 (36.2) |
| Depth, mm (inches) | 700 (27.6) |
| Gross weight, kg (lbs) | 102 (225) |
| Net weight, kg (lbs) | 78 (172) |
| | |
| --- | --- |
| Qty. per 20' container | 36 |
| Qty. per 40 container | 72 |
Ice Lined Refrigerator – Model Selection Guide
Model
Gross Volume
height
width
Depth
power
per 24 hrs
MTBBR1


64 Ltrs, 2.3 Cu ft
840 (33.1)
720 (28.3)
700 (27.6)
2.30 kWH
MTBBR2



136 ltrs, 4.8 Cu ft
840 (33.1)
700 (27.6)
920 (36.2)
1.89 kWH
MTBBR3


218 ltrs, 7.7 Cu Ft
840 (33.1)
700 (27.6)
1260 (49.6)
3.20 kWH
MTBBR4


340 ltrs, 12.0 Cu ft
650(25.6)
1650(65.0)
855(33.7)
2.13 kWH