Blood Bank Refrigerator Manufacturer India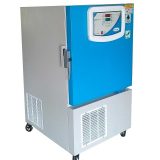 Blood Bank Refrigerator Manufacturer and exporter In India
European CE Certified Products Presafe DGM897
Alarms of Blood Bank Refrigerator –12 Types
Touch Screen and PLC Based Controller
Battery Backup-48 Hours
Cooling Backup – 24 Hours in case of power and technical failure
Inbuilt USB and Data Logger
Real Time Clock and Calendar Setting
Various Types of Blood Bank Refrigerator manufactured by Meditech are
(1) Vertical Blood Bank Refrigerator
(2) Double Door Vertical Blood Bank Refrigerator
(3) Horizontal Blood Bank Refrigerator
(4) Solar Blood Bank Refrigerator
Features of Meditech Blood Bank Refrigerator
Stable Temperature Control
Temperature is controlled by two sensors located in the liquid-loaded monitor bottles.Two thermistor sensors constantly monitor the temperature in both the upper and the lower part of chamber. Microprocessor control ensures the most accurate temperature control available.                      Refrigeration System


Heavy-duty, air-cooled refrigeration

system with non-CFC R134A refrigerant is used.It provides high efficiency and is environmentally friendly.
Forced air circulation maintains

chamber uniformity of ±1°C

and provides quick recovery after door openings.


No defrost cycle

required to maintain constant temperature.


Auto condensate evaporation

is standard
Evaporator fan(s) shut off during door openings to maintain stable temperatures.
Temperature Variations Prevented
The Meditech BBR Series is designed to minimize cold air loss  even with frequent door openings. Separated transparent inner doors minimize the chamber air leakage during door
openings.Foamed-in-place insulation in the walls and magnetic sealed outer doors with double-pane glass window prevent chamber air leakage and promote complete  door  closings. Large and Forced  air circulation fan enables rapid temperature recovery after door openings.
User Friendly Design
Interior LED lamp

with ON/OFF switch and a large view window in the outer door provide a clear view of stored items.
Eye Level Digital display

is easy to see, and is calibratable through the control panel.
Filterless construction

eliminates bothersome filter cleaning