ice lined refrigerator 65 liters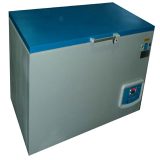 Ice Lined Refrigerator
Environmentally friendly Ice Lined refrigerator powered by Meditech Technology for safe storage of vaccines between 2 degree C to 8 degree C.
Ice Lined refrigerator is designed to store life saving vaccines. Temperature is maintained between 2 to 8 degree centigrade.Robust and Reliable refrigeration system is the heart of meditech ice lined refrigerator. These refrigerators comes with temperature backup of 24 hours to 72 hours.
PLC controllers ensures reliable temperature. Ice Lining and airflow system ensures stable temperature. Digital display of inside Temperature.High and low alarms system is provided to prevent damage of vaccines.The inside cabinet of ice lined refrigerator is made of Stainless steel 304 and outside body is constructed using powder coated Mild steel.
CFC Free insulation and inbuilt ice lining ensures long hold over time during power failure.The above features help in controlled and stable temperature to store vaccine and medical supplies.Meditech ice lined refrigerator are useful for routine and emergency vaccine handling to maintain Cold Chain.
Features
Ice Lined Refrigerator 64 litres features
| | | |
| --- | --- | --- |
| Reliable temperature between +2°C to +8°C | Only 8 hrs. of electricity needed per 24 hrs. at 43°C AMB | Self-regulating cooling system |
| Air flow system in vaccine compartment | External cabinet and internal liner pre-painted galvanized steel | Cooling coil of copper |
| CFC-free refrigerant and insulation | Compressor made for use in the tropics | Solid lid with handle and lock |
| 3 baskets for organized storage | Available in 220V-240V 50/60Hz + 115V 60Hz | Delivered in solid, wooden crate |
PLC Based Controller
| | | |
| --- | --- | --- |
| LIVE Data logger | LED INDICATION | User Friendly Settings |
| 1.Temperature | 1.Line In | 1.Date |
| 2.Incoming Voltage | 2.Power | 2.Time |
| 3.Ambient Temperature | 3.Comp On | 3.High Temp Alarm |
| 4.Time in hours of revolution chart | 4.Heater On | 4. Low Temp Alarm |
| 5.Current Date | 5.Battery On | 5. Hysteresis |
| 6.Current Time | 6.Battery Low | 6. Compressor Delay |
| 7.Battery Voltage | 7.Temperature High | |
| | 8.Temperature Low | |
| | 9.Sensor Fail | |
| | 10.Power Fail | |
| | 11.Chart Change | |
| | 12.System On | |
| | |
| --- | --- |
| Gross volume, litres(cu. ft.) | 64 (2.3) |
| Net volume, litres (cu. ft.) | 48 (1.6) |
| Temperature range, C° | +2 to +8 |
| Hold-over time during power cut at 43°C AMB, hrs | 43 |
| Power consumption per 24h, kWh | 2.30 |
| Refrigerant | R134a |
| No. of baskets | 3 |
| | |
| --- | --- |
| Height, mm (inches) | 840 (33.1) |
| Width, mm (inches) | 720 (28.3) |
| Depth, mm (inches) | 700 (27.6) |
| Gross weight, kg (lbs) | 70 (154) |
| Net weight, kg (lbs) | 57 (126) |
| | |
| --- | --- |
| Qty. per 20' container | 44 |
| Qty. per 40 container | 92 |
Ice Lined Refrigerator – Model Selection Guide
Model
Gross Volume
height
width
Depth
power
per 24 hrs
MTBBR1


64 Ltrs, 2.3 Cu ft
840 (33.1)
720 (28.3)
700 (27.6)
2.30 kWH
MTBBR2



136 ltrs, 4.8 Cu ft
840 (33.1)
700 (27.6)
920 (36.2)
1.89 kWH
MTBBR3


218 ltrs, 7.7 Cu Ft
840 (33.1)
700 (27.6)
1260 (49.6)
3.20 kWH
MTBBR4


340 ltrs, 12.0 Cu ft
650(25.6)
1650(65.0)
855(33.7)
2.13 kWH