Diffusion Cell Apparatus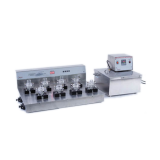 Meditech Technologies India Pvt. Ltd is the largest manufacturer and exporter of Diffusion Cell Apparatus.
The Vertical Franz Diffusion Cell is a simple, reproducible test for measuring the in vitro drug release from creams, ointments and gels.
The Franz Cell consists of two primary chambers separated by a membrane. The test product is applied to the membrane via the top chamber- donor compartment. The bottom chamber- receptor compartment contains fluid from which samples are taken at regular intervals for analysis. This testing determines the amount of active that has permeated the membrane at each time point. The cell is maintained at a constant temperature of 37deg c.
Features:
Useful for diffusion cell experiments
Uniform stirring speeds
Digital speed indicator and controller
Precise speed control over stirring range 100-990rpm
Digital Temperature controller for precise temperature control
Water Circulation System with water level sensors to avoid damage to heating element
Magnetics Stirrer with stainless steel body to avoid corrosion
Sturdy, Heavy duty magnetic Stirrers – allowing continuous & Nonstop Operation
The Transdermal Diffusion cell apparatus is remarkably simple to operate; the system is supplied with:
Seven stage magnetic stirrer with digital RPM indicator
Water heater & Water circulation system with digital temperature controller and water level indicator
Cell holders
Diffusion Cells
Teflon coated stirring bars
Model
Stirring drive
Certifications
Power requirements
Cells Supplied
Accessories supplied
Optional
EMFDC-07
7 stage
CE Compliant
 220/230V AC 50Hz

110/120V AC 50-60Hz*

7 Nos cell of 20ml volume
Cell holder-7, clamps-7, silicon rubber tubing,  Stirring bar-7
Diffusion cell of 5ml, 10ml, 15ml
* Needs to be specified in order information
System Specification & Models
Specification
Model
EMFDC-07
                                                                Stirrer Drive
Stirrer drive
7 stage
Material of construction of enclosure
S.S. 304
RPM Indicator
Digital
RPM Range
100-990rpm
Water circulation System
Material of construction of enclosure
S.S. 304
Temperature range & accuracy
5°C Above ambient

to 80°C (±0.2°C)
Order Information
Model
Stirring drive
Certifications
Power requirements
Cells Supplied
Accessories supplied
Optional
EMFDC-07
7 stage
CE Compliant
220/230V AC 50Hz

110/120V AC 50-60Hz*

7 Nos cell of 20ml volume
Cell holder-7, clamps-7, silicon rubber tubing,  Stirring bar-7
Diffusion cell of 5ml, 10ml, 15ml