Tablet Hardness Tester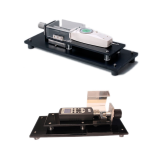 Meditech Technologies India Pvt. Ltd is the largest manufacturer and exporter of Tablet Hardness Tester.
Tablet hardness tester is portable instruments which can be used to measure the breaking point of tablet ranging from 2 mm to 28 mm. The tester measures the compressive force with high accuracy & displays the peak force used to break the tablet. Tablet hardness tester is ideally suited for the pharmaceutical, food, detergent, dairy, animal feed, pesticides and any other industry that requires compressed tablets.
Features
High accuracy and resolution
Synchronous Measuring Software can connect to the Computer and display measuring graph & the detailed testing records can be saved (for digital model)
Inbuilt weight calibration & calibration report generation facility (for digital model)
Data can be converted to excel & Pdf file for further analysis (for digital model)
Provision to add experiment name, instrument serial number, test ID, tablet shape & three readings averaging facility in software report (for digital model)
In-built Memory up to 150 readings can be saved (for digital model)
Easy interface between Software & Instrument using USB cable (for digital model)
% CBK mode for estimation of peak value and Track mode for force estimation at each time point
TFT display with back light (for digital model)
Acrylic glass safety cover with acrylic tray
Tester operates on rechargeable battery (for digital model)
N (newton), Kg (kilogram), Ib (pound) 3 measuring units for selection & conversion for digital model and N, Kg mode for dial type model
IQ, OQ & PQ Validation Documents (Optional)
Specifications
Model
HTF-20/HTF-50
NK-20
Digital
Dial Type
Capacity
20Kgf /50Kgf
20Kgf
Resolution
0.01Kg
200gf
Accuracy
±0.2%
±0.5%
Display
TFT
N.A
Battery
Rechargeable batteries
N.A
Unit
Kgf/N/lbf
Kg/N
PC Connectivity
Through USB cable
N.A
Required System Configuration
Windows XP/ 7.x/8.x etc ≥ 512 MB RAM , ≥ 100GB Hard disk
N.A
Power requirements
220/230V AC 50Hz

110/120V AC 50-60Hz*

N.A
Material of composition
acrylic, S.S. 304
Certifications
CE Compliant
Dimensions
480 mm (L) x 180 mm (W) x 150 mm (H)
Order Information
Model
Capacity
Accuracy

Resolution

Accessories
HTF-20
20Kg
±0.2%

0.01Kgf

Base Stand with tray and transparent protection cover USB cable for PC Connectivity, Software for PC Connectivity Power Adaptor Optional: Calibration Weight of 1Kg IQ, OQ, PQ Validation document
HTF-50
50Kg
NK-20
20Kg
0.5%

200gf

Base Stand with S.S. Tray and protection cover