Algometer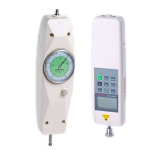 Meditech Technologies India Pvt. Ltd is the largest manufacturer and exporter of Algometers.
Meditech Technologies's Algometers easily measures pressure thresholds and pain tolerances reported by patients. Algometry is ideal for helping evaluate fibromyalgia and trigger point tenderness.
Algometers are designed to quantify and document levels of tenderness via pressure threshold measurement and pain sensitivity via pain tolerance measurement. Pressure algometry is a reliable measure of pain in muscle, joints, tendons, and ligaments.
Features
Digital and Dial type (analogue) models available
High precision and resolution
Algometer PC Connectivity and software for analysis in case of digital models
Digital Timer: 999 Min
Supplied with tip of 1cm sq. diameter
Set zero key
In built rechargeable battery for digital model
Models
Models
| | | |
| --- | --- | --- |
| Model | Dial type | Digital |
| Specification | ALGO-AN-01 | ALGO-D-01 |
| Capacity | 20Kg | 20Kg |
| Units | Kg, N | Kg, N, lbs |
| Load Division Value | 200gm | 0.01Kg |
| Accuracy | ±0.5% | ±0.5% |
| PC Connectivity and Software | No | Yes |
Order Information
Order Information
Model
Certifications
Power requirements
Accessories
ALGO-AN-01
CE Compliant
N.A.
Dial type sensor with 1 tip of 1cm sq., carrying case
ALG0-D-01
CE Compliant
0/230V AC 50Hz

110/110V AC 50-60Hz*

Digital type sensor with 1 tip of 1cm sq., carrying case

RS232 Cod, CD for software