Isolated Tissue Bath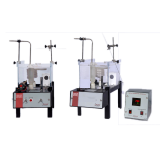 Meditech Technologies India Pvt. Ltd is the largest manufacturer and exporter of Isolated Tissue Bath.
Isolated organ bath are used to study effect of drug/chemical substances on isolated tissues in vitro.
Meditech's isolated tissue/organ bath systems are designed for in vitro investigations on isolated smooth, cardiac or skeletal muscle preparations.
Meditech's isolated organ bath systems are available as 1, 2 or 4 channel system and used in pharmacological research worldwide.
Features
No leakage- Thick Perspex joint free tank
No glass parts- Organ bath tube is made of P. P. And reservoir coil is made of Perspex making system breakage free and maintenance free
No leakage from organ tube fitting- Use of polypropylene bush for fixing organ tube in place of rubber cork
Uniform Temperature- Inbuilt water circulation pump for uniform temperature control
Available as 1, 2 or 4 channel system
Available with analogue and digital temperature controller
System Specifications & Models
Specifications
SE-1AW
SE-1D
SE-2A
SE-2D
Water Bath
One Bath
One Bath
One Bath
One Bath
Water stirrer
Yes
Yes
Yes
Yes
Temperature controller
Analogue
Digital
Analogue
Digital
Organ bath tube
01
01
02
02
Temperature range                                                        5°C above ambient TO 60°C
Temperature accuracy
±5°C
±5°C
±0.2°C
±0.2°C
Copler Set
01 set
01 set
02 set
02 set
Aeration tube
01
01
02
02
Power requirements
220/230V AC 50Hz

110/110v AC 50-60Hz*
Order Information
SE-1AW
SE-1D
SE-2A
SE-2D
Single unit with analogue temperature controller
Single unit with digital temperature controller
Double unit with analogue temperature controller
Double unit with digital temperature controller
Organ bath tube:1

Reservoir coil:1

Copler set:1

Aeration tube:1

Adequate Silicon tube for interconnections

Organ bath tube:1

Reservoir coil:1

Copler set:1

Aeration tube:1

Adequate Silicon tube for interconnections

Organ bath tube:2

Reservoir coil:2

Copler set:2

Aeration tube:2

Adequate Silicon tube for interconnections

Organ bath tube:2

Reservoir coil:2

Copler set:2

Aeration tube:2

Adequate Silicon tube for interconnections

Optional Accessories
Aerator,Tubing for Aerator,Marriot bottle 1 ltr,Stand for marriot bottle