Blood Tube Sealer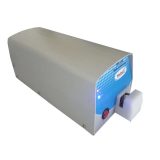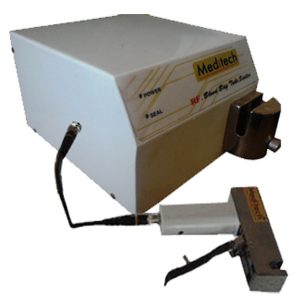 blood tube sealer,
RF Blood Tube Sealer with Battery Backup
European CE Certified Products Presafe DGM897 
Meditech is the largest manufacturer and exporter of Blood Tube Sealer in India. The Blood Tube sealer seals the tube of blood bag without causing haemolysis and leakage of blood. The seal is wide and can be separated or teared with little or no force. A wide Tear Seal is a special feature of meditech blood tube sealer.RF power seals the bag using 20 watts of power.Sealing operation is automatically activated with the help of sensor when the tube is placed in between the sealing electrode.
Meditech Technologies India Private Limited is offering an extensive range of Blood Bag Tube Sealers, which is used to seal blood bag tube containing blood without causing haemolysis and leakage of blood. The Blood Bag Tube Sealer provided by Meditech is a compact equipment to seal the blood bag pilot tube by radio frequency sealing system. The sealer which comes with battery backup takes less than 1 seconds to seal per tube depending upon the tube variation. Further, the sealed tube can be easily separated by tearing the sealing section by both sides. Meditech Blood tube sealer seal is wide after sealing.
Meditech Blood tube sealer provides the highest technology in the market with the most affordable price and cost.
Video of  Blood Bag Tube Sealing Operation

Technical Specifications of Blood Tube sealer:
| Catalogue Number | MTBTS – 02 | MTBTS – 05 |
| --- | --- | --- |
| Oscillation Frequency | 40.68 Mhz. | 40.68 Mhz. |
| Power Supply | 80-290 VAC | 80-290 VAC |
| Radio Frequency Output | 20 W | 20 W |
| Sealing Time (Approx.) | 0.5 to 1.5 Sec | 0.5 to 1.5 Sec |
| Input Voltage | 110 V-230V AC | 110 V-230V AC |
| Frequency | 50 Hz. | 50 Hz. |
| Battery Back-up | 1500 | 1500 |
| Power Consumption | 100V A | 100V A |
| Weight (Approx.) | 5.5 kg | 3 kg |
| Dimensions (w*d*h)(cm) | 22*27*14 | 22*27*14 |
Blood Tube Sealer Portable
In under One seconds, this new next-generation portable Blood tube sealer reliably creates high quality seals that are very easy to separate.
The Portable Blood Tube Sealer is Compact, lightweight, quiet and durable. The Blood bag Tube Sealer is suitable for single-unit or cascaded bench-top use.This unit brings increased efficiency to blood  processing and collection system .
Advanced features of Blood Tube Sealer:
The sealer gives precise sealing without mechanical wearing.
The LED indicates device Battery status.
The arms which are tension relief prevent traction on the tubing during the tube sealing process.
The tubing segment can be adjusted to any length to best meet operator needs.
The sealing head is removable for easy cleaning and maintenance.
Working of Portable Blood bag tube sealer
The arm of hand gun sealer is pressed when tubing is inserted between the sealing head. The arms grip the tube to prevent traction on the tube. Thus, the moving head from squeezes the tubing. At this moment, high frequency waves are generated and the Blood tube is melted to form seal into two, easy-to-separate wide tear parts.The sealer is designed to seal for PVC tubing up to 6 mm outer diameter.
LED Ready Power
The GREEN LED of sealer indicates the device status.
Sealing
The Sealing is accomplished in 0.5 to 3 seconds, depending on tube size.
Completed seal
The sealer Creates reliable and high quality seals that can be separated easily.
Sealing head
Head can be removed for cleaning.
Blood Tube Sealer – Benchtop and Extended Handle
Various Blood Bank Equipment Manufactured by Meditech are
Blood collection Monitor, Blood Tube Sealer, Blood Bank Centrifuge, Platelet Incubator Agitator, Plasma Thawing Bath, Cryo precipitate Bath, Plasma Extractor, Plasma Blast Freezer, Laminar Air Flow Horizontal, Blood Bank Refrigerator, Plasma Freezer, Chart Recorder, Blood Donor Couch, Blood Donor Chair, Camping Cot, Elisa Plate Analyser, Guidelines for Blood bank