Blood Bank Refrigerated Centrifuge 6 and 12 Bags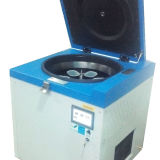 Blood Bank Refrigerated Centrifuge
European CE Certified Products Presafe DGM897
Meditech is the largest manufacturer of Touch Screen based Blood Bank Refrigerated centrifuge in India,  The Blood Bank Centrifuge are manufactured, supplied and exported all around the Globe.
Video for 12 Bags Blood Bank Refrigerated Centrifuge

Video for 6 Bags Blood Bank Refrigerated Centrifuge

The Meditech Blood Bank refrigerated centrifuge are manufactured for  separation of plasma, WBC and platelets from Blood.The centrifuge is manufactured from special anti bacteria aircraft powder coated CRCA steel. The Inner chamber is constructed with SS304. The machine is provided with 7 inch Touch screen controller with 12 types of visual and audio alarm. The Blood bank centrifuge has many advance option such as dynamic brake, Interlock, lid lock switch and safety cut off in case of imbalance.
CFC free cooling system.
The microprocessor control is provided with programmable
variable speed  control up to
4800 R P M with 10 RPM increment
Continues read out of working RCF Value
Temperature control with Working temperature in the range of -5 °C to 25 °C depending on the speed of rotations
99 program memory, brush less induction motor drives
1 to 120 minutes timer programmable in 1 minute increment with infinite mode
User programmable Acceleration and Deceleration time range from 40 seconds to 450 seconds
Mechanical and Electronic lid lock with indicator,
Imbalance indicator
LCD display of set and working parameters.
Specially designed cooling system allow pre-cooling of rotor head and also allow the cooling system to work even when the centrifuging operation is complete, thereby eliminating damage to heat sensitive material.
The Centrifuge chamber is made of stainless steel and is effectively insulated and separated from other parts
Counter Balanced & fall safe Lid with hydraulic system.
Max. Speed 4800 RPM , Max RCF. 6000x g depending on rotor heads. (without rotor head and carriers).
6 Place Swing out rotor suitable for carrying 6 Nos. metal buckets Maximum speed 4500 RPM . Centrifugal force 5000-6000g
Download Catalog for refrigerated Blood Bank Centrifuge
Download Catalog
Various Blood Bank Equipment Manufactured by Meditech are
Blood collection Monitor, Blood Tube Sealer, Blood Bank Centrifuge, Platelet Incubator Agitator, Plasma Thawing Bath, Cryo precipitate Bath, Plasma Extractor, Plasma Blast Freezer, Laminar Air Flow Horizontal, Blood Bank Refrigerator, Plasma Freezer, Chart Recorder, Blood Donor Couch, Blood Donor Chair, Camping Cot, Elisa Plate Analyser, Guidelines for Blood bank