Camping Cot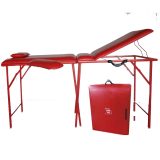 Blood Donation Camping Cot
European CE Certified Products Presafe DGM897
Meditech is the largest manufacturer and exporter of camping cot in India. The Meditech camping cot is useful in outdoor camps for collection of blood. Meditech Blood donation camp cot is widely appreciated for rugged quality, finish and compactness. The camp cot can also be customized as per customer requirements. Buy Camping Cot at affordable prices.
Features of Meditech Blood Donation Camping Cot: –
Meditech Blood Donation Camp Cot is manufactured with latest technology.
The camp cot can be folded and kept in bag after usage.
Extra Stand can be for Blood Pressure Unit.
Bag Is also Provided For Easy Transportation of camp cot.
Download catalog for Camping Cot
download catalog
Various Blood Bank Equipment Manufactured by Meditech are
Blood collection Monitor, Blood Tube Sealer, Blood Bank Centrifuge, Platelet Incubator Agitator, Plasma Thawing Bath, Cryo precipitate Bath, Plasma Extractor, Plasma Blast Freezer, Laminar Air Flow Horizontal, Blood Bank Refrigerator, Plasma Freezer, Chart Recorder, Blood Donor Couch, Blood Donor Chair, Camping Cot, Elisa Plate Analyser, Guidelines for Blood bank