Blood Bank Refrigerators Gas And Electric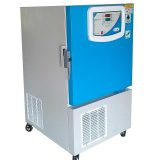 Blood Bank Refrigerators On Gas and Electricity.
Environmentally friendly blood bank refrigerator powered by Meditech Technology for safe storage of blood bags.
Stable Temperature Control
Temperature is controlled By thermo-stat. Set temperature is maintained automatically irrespective of ambient temperature. by two sensors located in the liquid-loaded monitor bottles, which are in the shape of a blood bag
Two thermistor sensors constantly monitor the temperature in both the upper and the lower part of chamber.Microprocessor control ensures the most accurate temperature control available. Over cooling protection to prevent the refrigerator temperature falling below +2 degrees Centigrade. Alarm/warning system: Audio and visual alarm for high or low temperature, sensor and system failure, door ajar and power failure. Mains-independent audible signal operated by batteries.Multi air-flow plenum system ensures excellent temperature uniformity in larger capacity models.
Temperature-maintained defrost designed with thermal sensors and heaters on the evaporator, all under precise microprocessor control. Designed to conform to AABB criteria, the series ensures stable and reliable temperature control utilizing Meditech original technology. A special highly
efficient compressor designed and used by Meditech provides rapid cooling and quiet performance for each model.
Temperature Variations Prevented. The Meditech BBR Series is designed to minimize cold air loss even with frequent door openings.Separated transparent inner doors minimize the chamber air leakage during door openings. Foamed-in-place insulation in the walls and magnetic sealed outer doors with double-pane glass window prevent chamber air leakage and promote complete door closings.Large air circulation fan enables rapid temperature recovery after door openings
Blood bank fridge, using gas and electricity
Specifications:
Construction: Strong outer panels from electrolytically galvanized sheet steel
Interior finish: Stove enameled Interior with; Smooth aluminum and clear protective coating.
white drawers with ball running runners.
Type: Vertical
Re-circulating air cooling with cross flow blower. Cuts out automatically when door is opened (minimum interior temperature increase).
Operation temperature: 2 to 8 °C
Castors: Equipped with heavy duty castor wheels for ease of movement.
Defrosting: Automatic; with defrosted water evaporation in compressor compartment.
Temperature control: By thermo-stat. Set temperature is maintained automatically irrespective of ambient temperature.
Over cooling protection to prevent the refrigerator temperature falling below +2 degrees Centigrade.
Alarm/warning system: Audio and visual alarm for high or low temperature, sensor and system failure, door ajar and power failure.
Manis-independent audible signal operated by batteries.
Refrigerant: CFC Free
Door: Double layer door with lock.
Power supply: 100-240VAC, 50 Hz and Natural Gas