Laminar Air Flow Horizontal Manufacturer India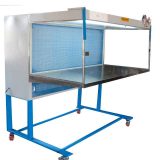 Laminar Air Flow Horizontal Manufacturer India
European CE Certified Products Presafe DGM897
Meditech is the largest producer, manufacturer and exporter of Laminar Air Flow Horizontal in India. Horizontal laminar airflow provides protection against various micro organism within the work area. A removable clear glass panels and stainless steel work surface is used inside the laminar air flow.
The Meditech Laminar Air Flow Horizontal is available in different work area in feet : 2 x 2′, 3 x 2′, 4 x 2′, 6 x 2′
Salient Features of Laminar Air Flow Horizontal:
The Laminar air flow provides ISO class 5 (Class 100 U.S. Federal Standards 209 E)environment within the work area that complies with the latest IEST recommended practices.
The Horizontal wall is made up of perforated stainless steel diffuser screen. The air circulated through HEPA filter and maintain uniform air flow velocity within the work area and provides clean air.
The Horizontal laminar airflow can be accessed through a small door.
Hepa Filter: The Hepa Filter has aluminum frame. It has high efficiency of 99.99% at 0.3 micron.
Pre filter: Washable type pleated pre-filter with 90% efficiency is used.
Construction: Laminar air flow are available in 2 Configuration.
(1) Complete stainless steel inside and outside.
(2) Stainless steel work are and powder coated bacteria resistant CRCA outside body.
Air flow rate: 90 FPM (0.45 m/s) 10 FPM (0.05 m/s) average velocity which is measured 6 in. (152.4 mm) from the diffuser screen. Uniformity 20% of average or better. 20 to 100 fpm
Noise level: Meditech laminar air flow has noise level less tha <65 DB measured at 1 meter from filter face.
Motor and Blower assembly: Direct drive, continuous duty ¼ HP with sealed bearings is used. Motor is mounted on FRP casing to reduce noise & vibration and is dynamically balanced.
Options accessories: Follwing accessories can be ordered during purchase. Electrical Outlet, Magnehelic pressure differential gauge, Mini pleat HEPA / ULPA filter, Gas / Vacuum / Air inlet nozzle.
Various Blood Bank Equipment Manufactured by Meditech are
Blood collection Monitor, Blood Tube Sealer, Blood Bank Centrifuge, Platelet Incubator Agitator, Plasma Thawing Bath, Cryo precipitate Bath, Plasma Extractor, Plasma Blast Freezer, Laminar Air Flow Horizontal, Blood Bank Refrigerator, Plasma Freezer, Chart Recorder, Blood Donor Couch, Blood Donor Chair, Camping Cot, Elisa Plate Analyser, Guidelines for Blood bank