Muffle Furnace Manufacturer & Suppliers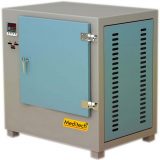 High Temperature Laboratory Muffle Furnace:
Meditech is the largest Muffle Furnace Manufacturers and Suppliers in India. Meditech manufactures various types of Muffle Furnace such as portable, Bench top and standalone. They are widely used in Laboratory, industries and research departments to study properties of different material. These furnaces are robust and heavy duty to work nonstop in all conditions. Meditech Laboratory Muffle Furnaces are available upto 1800°C. Meditech have experience of 30 years in the field of muffle furnace.
Temperature Range of  Muffle Furnace:
Meditech muffle furnace is manufactured and available in different temperature range from 800°C to 1400°C. These ranges are 800°C, 1100°C, 1200°C and 1400°C. Meditech also manufacture High Temperature Muffle Furnace such as 1500°C, 1600°C, 1700°C, and 1800°C
Usability & Performance of Lab Muffle Furnace:
Meditech electric muffle furnace has easy to do MENU on PID controller to set various temperature and alarms. The body of electric furnace is made up of CRCA powder coated steel. It is compact and light weight. High quality heating elements are used for long life. Meditech ensures safe operation of Electric Furnace every time.
Safety Features:
The Muffle furnace is designed for safe operation even at very high temperatures using micro plc controlled logic. Safety is the priority since prevention is better than cure. There is multi layer insulation between inside and outside surface. Therfore there is saving in power due to minimum loss of temperature. Also the outer surface remains cool to the touch of operator.  A door safety switch stops the heater once the door is opened.
Data Recording
Meditech can provide 7 inch Touch screen for online process. The temperature and log data can be accessed, printed and recorded in the PLC.
Construction:

1. The Muffle furnace is insulated with ceramic glass wool.
2. The outer body is constructed with bacteria resisted CRCA powder coated steel.
3. Molybdenum Disilicide (MOSIO2) is used as heating element.
4. Energy regulator is fitted in front of the furnace.
5. The complete unit works on 230v/50H
Special Features of Laboratory Muffle Furnace:
1. The temperature can be set from 950 to 1800°C
2. The insulation saves energy and heat loss
3. The furnace has safety feature to stop the heater when the door is opened.
4. Meditech  furnace is equipped with thermo couple protection.
Specification of muffle furnace


Temperature Range

900°C to 1800°C

Temperature Uniformity

± 0.1°C 

Rise Time (to 1050°C)

25 Minutes

Power

220 Volt / 50Hz

Temperature Control of muffle furnace


LED based Microprocessor Control System

Outer Chamber

Powder coated CRCA Steel / S.S 304


Inner Chamber

Stainless Steel SS304

Heater

Kanthal A1/ Silicon Carbide Rod / MoSi2

Digital Timer

Optional

Safety Fuse

Thermocouple Fuse
Available Sizes:

Dimension ( W x D x H

Wattage (KW)

Power Consumption

100 x 100 x 225mm

1.5

7 Amp

125 x 125 x 250mm

2.0

8 Amp

150 x 150 x 300mm

3.0

13 Amp

125 x 175 x 475mm

4.0

18 Amp

175 x 175 x 475mm

4.5

20 Amp

200 x 200 x 300mm

5.0

24 Amp

Note: These are instant available sizes; we also manufacture larger size or any specific one meeting individual requirements.