Elisa Plate Analyser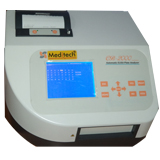 ELISA PLATE ANALYSER
European CE Certified Products Presafe DGM897
Meditech is the largest manufacturer of Elisa Reader in India.
Elisa Reader has Built in Stabilizer
Elisa reader also  has Built In Shaker
The equipment has On Screen Plotting
It takes 8 Seconds for 96 wells
The machine is has a standard Touch Screen
FEATURES of Meditech Elisa Plate Analyzer

The Elisa Reader manufactured by Meditech is Robust with built in Stabilizer
The speed can be varied with duration with the help of Built  in Shaker.
The Results are printed in Matrix Mode Format.
There is an Option to run Multiple Blank in cut-off mode
Results are obtained in Bichromatic readings
The Elisa Reader has an ability to read from any strip in a single plate
The machine has feature of Extensive curve plotting
A unique circuit is designed  for  long life of lamp
Clinic and user name can be entered.
Elisa Reader Instrument Features
HMI
Touch panel and keypad
Measurement range
0.000 to 3.500 Absorbance Units
Photometric Accuracy:
±2% or 0.007 whichever is higher. Range from 0 to 1.5 A
±3% from 1.5 to 3.5 A
Drift
<0.005 A/hr
Photometric Linearity
2.5 A
Optical Measurement
8 Channels
Type of filter
Narrow Band Interference
Wave Length
405nm, 450nm, 492nm, 630nm and four optional
Half Bandwidth
10nm ± 2 nm
Selection
Automatic done By stepper motor
Source of light
Tungsten Halogen Lamp, 20 watts
Warm up time
Min 90 seconds (built in)
Display
6″ Graphic Touch  LCD, Negative Blue, STN
Curve Plotting
Graph Representation on printer
Plate Carrier Movement
Stepper motor
Printer
Machine has Built in thermal printer with 52 columns
Memory
Back up for 250 tests and more than 2500 results
Analysis Mode
Absorbance ( Normal and differential)
Cut-off, multi standard and  % absorbance
Single Standard, uptake and kinetic
Connectivity RS232 Serial Port
9600 baud, 8 data, 1 stop, no parity bit/ USB
Wattage
75 watts
Voltage range
115-230 volts ±10% 50/60 Hz
Operating Conditions
From -18 to 35 upto 95% RH
Storage Conditions
From -10 to 40 upto 95% RH
Enclose
ABS Fire Retardant Box
Size, cm
36x36x22 ( lxbxh)
Weight
10 kgs
Various Blood Bank Equipment Manufactured by Meditech are
Blood collection Monitor, Blood Tube Sealer, Blood Bank Centrifuge, Platelet Incubator Agitator, Plasma Thawing Bath, Cryo precipitate Bath, Plasma Extractor, Plasma Blast Freezer, Laminar Air Flow Horizontal, Blood Bank Refrigerator, Plasma Freezer, Chart Recorder, Blood Donor Couch, Blood Donor Chair, Camping Cot, Elisa Plate Analyser, Guidelines for Blood bank