Solar Blood Bank Refrigerator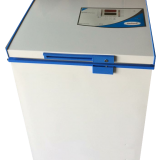 Solar Blood bank Refrigerator
European CE Certified Products Presafe DGM897
General Features of Meditech solar blood bank refrigerator
Alarms –12 Types
Temperature Backup – 12 Days
Power required per 24 hours – 2 1/2 hours only.
Chart Recorder
Data Logger and USB pen drive
Clock and Calendar Setting
Meditech is the largest manufacturer and exporter of solar Blood bank Refrigerator in India. The temperature settable range is 2 to 6 °C. Advance LED based micro controller is used to control temperature and alarms. There is digital display of set value and process value.

Cabinet Construction of solar blood bank refrigerator:
The cabinet of solar blood bank refrigerator is insulated with high density PUFF 120 mm thick and vacuum insulated panels.The Interior chamber is manufactured from finished resistant stainless Steel SS 304 and 0.8 mm thick. The exterior cabinet is manufactured using bacteria resistant special aircraft alloy Polyster powder coated (1.0 mm thick) CRCA steel. Stainless steel trays are provided for storage inside. The Meditech Solar Blood bank Refrigerator is provided with Door handle and lock for safety and security.
Specification Reference for Solar Blood Bank Refrigerator: BTS/RFS.3
Equipment Purpose: A refrigerator which is used for the storage of whole blood/red cell packs in a blood bank
Type of Equipment: The refrigerator used compression type cycle. The refrigerant is CFC free . Electricity is generated from solar energy using solar panels.
Laboratory Test Procedure for Solar Blood Bank Refrigerator : Standard Test Procedure: BTS/ Proc/ 5
Construction: Chest type/vertical type
Internal Body: Stainless Steel SS304.
External Cabinet: Bacterial free Corrosion Resistant CRCA steel at least 1mm thickness. CFC puff free insulation
Racks/Trays: Provided for easy packing or retrieval of Blood packs.
Door: Solid door with Door Handle and lock for security.
Electrical Characteristics: Input voltage: Direct Current to Required Voltage, 12-24 volts.
The solar Blood Bank Refrigerator meets electrical safety specifications such as that of IEC
Minimum Compressor Starting Voltage required: 22% below nominal voltage
Internal Temperature Control: Electronic temperature controller
Inside body temperature Range:  2 °C to  6 °C with setting accuracy of ±1°C whatever the load
External Ambient Temperature Required: Solar BBR can Perform in an ambient temperature of up to +45 °C and 60% humidity
Hold-Over Time*: A full load of blood packs at +4 °C (±1 °C ) takes at least 72 hrs to rise to above +6 °C
Cooling Down Time*: A full load of blood packs at +37 °C takes a maximum of 10 hrs for all the packs to reach below +6 °C
About Meditech Solar Blood Bank Refrigerator
Meditech has experience of more than 30 years in the field of solar Blood bank refrigerator. Meditech has successfully supplied and install solar Blood Bank Refrigerator and Solar Plasma Freezer to World Health Organization.  The solar Blood bank refrigerator is well exported to our 40 countries across the globe.
Why choose Meditech  Solar Blood Refrigerators
Meditech Solar Blood Bank  Refrigerators with Anti-Freeze technology
Never freeze: The Temperature inside the refrigerator cabinet always remains between 2 to 8 Degree C. The cabinet Temperature within the chamber is always maintained in the range less than 1˚C using Our Anti Freeze Technology. Problems related to Blood Freezing and stratification is eliminated unlike other refrigerators. Hence the Blood is constantly maintained at safe temperature.
No Thermal Shock: Using the above mentioned technology, there is no thermal shock associated with this refrigerator due to Power failure or High Ambient Temperature. With Electricity of 2½ hours per day, Our Refrigerator provides excellent performance. The Blood is maintained at same temperature even there is a power failure. Meditech Solar Refrigerator can maintain the temperature and keep Blood safe for 3 or more days in the event of power failure based on different models.
Anti-Freeze technology: The water is surrounded around the Meditech Blood Storage Compartment. As the refrigerator is supplied with the desired power, there is ice formation above the compartment which in turn melts during warm water rising phenomenon. The compartment is always left with at 4˚C inside. This Anti-freeze technology converts the solar power and stores energy inside this ice compartment for many days.
Successful Funding : It is always advisable to make sound investment is purchasing a refrigerator which helps in safe storage of Blood Components. Since Blood worth million dollars and for emergency purpose will be stored inside for many years.