Solar Ice Lined Refrigerator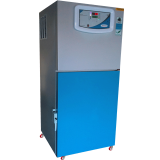 Solar Ice Lined Refrigerator
European CE Certified Products Presafe DGM897
Alarms –12 Types
Cooling Backup – 10 Days+ Hours in case of power failure
Anti Freeze Technology – Never Freeze below 4 Degree
Advance PLC Based Micro Controller
Inbuilt USB and Data Logger
Real Time Clock and Calendar Setting
Brushless DC Motor With Zero Maintenance

Why choose Meditech  Solar Ice Lined Refrigerator with Anti-Freeze technology?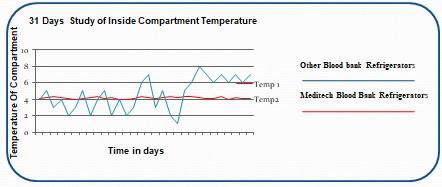 Why choose Meditech  Refrigerators with Anti-Freeze technology?
Never freeze: The Temperature inside the refrigerator cabinet always remains between 2 to 8 Degree C. The cabinet Temperature within the chamber is always maintained in the range less than 1˚C using Our Anti Freeze Technology. Problems related to Vaccine Freezing and stratification is eliminated unlike other refrigerators. Hence the Vaccine is constantly maintained at safe temperature.
No Thermal Shock: Using the above mentioned technology, there is no thermal shock associated with this refrigerator due to Power failure or High Ambient Temperature. With Electricity of 2½ hours per day, Our Refrigerator provides excellent performance. The Vaccine is maintained at same temperature even there is a power failure. Meditech Solar Refrigerator can maintain the temperature and keep Vaccine safe for 3 or more days in the event of power failure based on different models.
Anti-Freeze technology: The water is surrounded around the Meditech Vaccine Storage Compartment. As the refrigerator is supplied with the desired power, there is ice formation above the compartment which in turn melts during warm water rising phenomenon. The compartment is always left with at 4˚C inside. This Anti-freeze technology converts the solar power and stores energy inside this ice compartment for many days.
Successful Funding : It is always advisable to make sound investment is purchasing a refrigerator which helps in safe storage of vaccines. Since vaccine worth million dollars and for emergency purpose will be stored inside for many years.
Model

MTBTS01

MTBTS02

MTBTS03

Dimensions (WxDxH) mm

796 x 752 x 1222

796 x 752 x 1819

796 x 752 x 1819

Gross Storage Capacity (L)

60

125

278

Vaccine Storage Capacity (L)

50

100

230

Energy Consumption Stable Running

0.55 kWh/ 24 hours

 0.75 kWh/ 24 hours

 1.05 kWh/ 24 hours

Energy Consumption Cool Down Test,

0.60 kWh/ 24 hours

1.90 kWh/ 24 hours

2.55 kWh/ 24 hours

Refrigerant

R134a

PQS Code

E003

Weight (Kg)

124

158

182

Quality Standard

ISO 9001:2008

Holdover Time Holdover

3+ days

Controller

Adanvce LED Controller
Download catalog