Blood Donor Chair – Blood Donation Chair Manufacturer and Supplier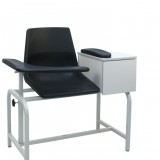 Blood Donor Chair – Blood Donation Chair Manufacturer and Supplier
European CE Certified Products Presafe DGM897
Meditech is the largest manufacturer and exporter of Blood Donor Chair in India. The Donor Chair is available with various features described below. The Blood Donor chairs is used in various application such as Blood collection chair for collection of Blood, Blood donation chair for donation of Blood.
Features of Meditech Blood Donor Chair are:
The Chair is fixed and Laminated
The arm rest is adjustable and Padded with Premium Vinyl leather finished.
The Backrest and seat is Vinyl finished.
The Chair has integrated tray.
Storage drawer version is also available on request.
Download Catalog
Catalog for Meditech Blood Donor Chair:
Meditech has understood the need of a totally new chair. This requirement arose from the feedback from blood banks and blood donation centres. These specs were necessary to implement since it was not made by other manufacturers. One of the major issue was fainting of donor during blood donation process . The Recovery position of the donor is different from the position of blood donation. An innovative new Blood donor chair was designed to address the existing issue.
The new stylish and durable blood donor chair gained tremendous market support. It was demonstrated to NHSBT for approval. The chair is very comfortable for blood donor. It provides support to the body at various crical points.The Chair can easily be folded and stack on trolleys when not in use. Meditech has won many tenders for the design and installation of new blood donor chair.
The Donor couch manufactured by Meditech has various features of adjustment.The Chair is manufactured from CRCA steel powder coated with anti bacteria. Premium quality vinyl covering is used. The PU foam is CFC and HCFC free.The chair is UL listed.  The arm is swivel.
The arms of the donor chair can be stopped at any intermediate position as per the donor stomach and waist