Glass bead sterilizers digital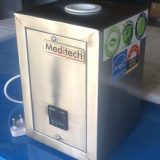 Meditech – Manufacturer & exporter of digital glass bead sterilizers for more than a decade. We have supplied our units to over 26 countries and they are being used by various professionals. Glass Bead Sterilizer is also being used as medical sterilizing equipment, dental sterilizing equipment, biotechnology sterilizing equipment, podiatric sterilizing equipment etc.
In continuation to our Glass Bead Sterilizers, Models MT-300, MT-500, MT-1000 and MT-2000, we have developed Models MT-500D, MT-1000D, and MT-2000D – these units are incorporated with a digital temperature indicator which continuously display the temperature being maintained in the glass beads. The units continue to be an effective method of sterilization, killing all spores, bacteria, within 10 seconds.
Technical Specifications
| | | | |
| --- | --- | --- | --- |
| SPECIFICATIONS | MT- 500 D | MT- 1000 D | MT- 2000 D |
| 1. Cabinet Size L × W × H | 145 x 140 x 325 mm. | 155 × 155 × 370 mm | 125 × 143 × 385 mm |
| 2. Crucible (Brass) size | 50 mm. Dia x 75 mm. Depth | 50 mm dia. × 137.5 mm Depth | 50 mm dia. × 162.5 mm Depth |
| 3. Preset Temperature Range | 230°C – 250°C | 245°C – 265°C | 230°C- 250°C |
| 4. Initial Stabilization Time | 30 Minutes | 30 Minutes | 30 Minutes |
| 5. Weight (Inclusive of Glass Beads) | 5.3 kgs. | 6.2 kgs. | 6.4 kgs. |
| 6. Power Consumption | 30 units (for 25 working days) | 50 Units (for 25 working days) | 50 Units (for 25 working days) |
| 7. Wattage | 150W single phase | 250 W Single Phase | 250 W Single Phase |
| 8. Input | 220V/50Hz or 110V/50Hz | 220V/ 50 Hz or 110V/ 50 Hz | 220v/50Hz or 110v/50 Hz |
glass bead sterilizers,glass bead sterilizer manufacturer, glass bead sterilizer india,glass bead sterilizer exporter