Ice Lined Refrigerator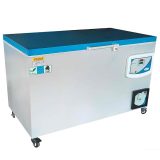 Ice lined Refrigerator
European CE Certified Products Presafe DGM897
Alarms –12 Types
Temperature Backup – 12 Days
Power required per 24 hours – 2 1/2 hours only.
Data Logger and USB pen drive
Clock and Calendar Setting
Meditech is the largest manufacturer and exporter of Ice lined Refrigerator in India. The temperature inside the ice lined refrigerator is maintained between +2 degree C to +8 degree C to store vaccines. The meditech ice lined Refrigerator is made for extreme tropic conditions upto 45°C.
Features of Ice Lined Refrigerator.
• Meditech ice lined refrigerator uses anti-Freeze technology to maintain temperature between +2 degree C to +8 degree C.
• Electricity required per 24 hours of operation at 43°C ambient is only 2.5hours
• The Refrigerator comes with self regulating cooling system.
• The Vaccine compartment is equipped with air circulation system.
• External cabinet is made up of powder coated bacteria resistant CRCA steel.
• Internal cabinet is manufactured using corrosion resistant stainless steel, SS304.
• Pure 99.99% copper tubes is used to make copper coils.
• Eco friendly 134a refrigerant is used. CFC free puff insulation is used.
• Compressor is robust and designed to be used in tropical condition.
• The equipment comes with Solid lid and handle with lock for security.
• The Meditech Ice Lined Refrigerator is supplied with Baskets to help in organized storage of vaccines.
• Ice Lined Refrigerator is available in 230V/5OHz and 115V/60Hz configuration.
• Delivered in wooden crate with fumigation (for export customers).
Download Catalog for Horizontal Ice Lined Refrigerator
Download catalog
Download Catalog for Vertical Ice Lined Refrigerator
Download catalog