Blood Collection Monitor Manufacturer India Battery Backup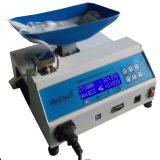 blood collection monitor,
Blood Collection Monitor manufacturer in India European CE Certified Products Presafe DGM897

Meditech is the largest manufacturer and exporter of Blood collection monitor in India.
Blood Collection Monitor is useful to collect accurate blood during blood collection process. The amount of Blood collected is between 350ml to 450ml. The electronic Blood collection monitor is a compact instrument. It is used provide smooth and gentle shaking of blood with anticoagulant present inside the blood bag to from  a homogeneous mixture. This process helps to prevent clot formation of cells during blood collection from donor.
 Meditech Electronic Blood Collection Monitor has preset standard volumes for standard blood collection like 350 amd 450 ml. These values can be easily selected during collection process. Meditech monitor  has provision to stop the collection and change the volume using pause function key. The equipment is controlled using a micro controller. The volume can be set from 1ml to 999ml. Meditech Blood collection monitor is well known for its premium quality, tensile strength, performance and affordable price. It is widely exported to well known markets across the globe.
Meditech Blood mixing device can be adjusted to provides mixing of blood from 1 to 50 cycles/min. There is an automatic termination and stoppage of blood collection monitor once the blood in the bag reaches the set volume. The large digital LCD displays volume of blood and time taken for collection of Blood. The clamp automatically comes down once the required amount of blood is collected in the bag. The clamp can also be operated manually. There is a huge battery backup of Meditech Blood collection monitor for more than 50 hours.
Technical Specifications of Blood collection Monitor:
| Catalogue Number | MTBCM – 02 |
| --- | --- |
| Input Voltage | 90-280 VAC 50/60 Hz |
| Operation cycle | Continues Operation with Intermittent Loading |
| Power consumption | 12W (Max) |
| Working Environment |   |
| Temperature | 0° to 50°C |
| Relative Humidity | 25 to 95% |
| Atm Pressure | 650 to 1080hPa |
| Battery | Full Charge Battery 50 hours continuous operation blood collection monitor |
| Storing and Transportation Temperature | -20° to 50°C |
| Relative Humidity | 20 to 99% |
| Atm Pressure: | 650 to 1080hPa |
| Oscillation details | 50± 1 rpm, motor driven oscillation. Adjustable for 1 to 50 RPM |
| Clamping Mode | Automatic and Manual tube Clamping. Automatic clamping when the preset volume is achieved after collection |
| Volume Setting | Insteps of 1 ml. Automatic storage of previous set volume. Continuous display of set and current volume |
| Auto Tare | The Blood collection Monitor calibrates automatically each time when the Start Button is pressed |
| Alarms/Indications | LCD and LED indication with audible alarm when there is no Blood flow. LCD and  LED indication with audible alarm at the end of collection. |
| Display | Large Display:  16×2 line character Backlit LCD display |
| Time Measurement | The time of collection is shown at the end of every collection.There is also display of time during collection |
| Accuracy | 1% of the programmed volume |
| Dimension in mm | height:140mm; length:250mm; width: 250mm |
| Weight | 4.8 kg. only weight of blood collection monitor |
| Battery | rechargeable 12V, 2.3 AH Sealed Maintenance free lead acid  battery |
| RTC | Real Time Clock |
| Time setting | Display on the main screen and editable |
| Date Setting | Display on the main screen and editable |
| RPM | RPM setting of motor from 0 to 50 |
| RS 232 | RS 232 port for extraction of data from BCM to Computer |
MENU ITEMS OF Electronic Blood collection Monitor

Menu Item

 

Description

Test Cal Mode

 

The user can check accuracy of Blood collection Monitor using Test Cal. 500 gm of calibrated weight is placed on the shaking assembly of Blood collection monitor and weight is calibrated.

EDIT MOTOR SPEED

 

The Motor speed can be adjusted using MOTOR SPEED option.The speed can be set from 01 RPM to 50 RPM.

Time Mode

 

Meditech Blood collection monitor is incorporated with RTC Chip to display real time and clock. Once the time is set, the Blood collection monitor stores the time and displays in the front of screen. The time automatically keeps updating in the background even if the Blood collection monitor is switched Off.

Date Mode (CALENDAR)

 

Meditech Blood collection monitor has RTC Chip to display Calendar mode and Date . Once the Date is set, the Blood collection monitor stores the Date and displays in the front of screen. The DATE automatically keeps updating in the background even if the Blood collection monitor is switched Off.

RS 232

 

1. Serial No of blood collection mixer

2. Blood in (ml)

3. Time taken for collection of blood. minutes and Seconds

4. Time display at the time of collection

5. Date display at the time of collection
 Carrying case
We also provide carrying case on request. Download Catalog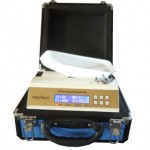 Various Blood Bank Equipment Manufactured by Meditech are
Blood collection Monitor, Blood Tube Sealer, Blood Bank Centrifuge, Platelet Incubator Agitator, Plasma Thawing Bath, Cryo precipitate Bath, Plasma Extractor, Plasma Blast Freezer, Laminar Air Flow Horizontal, Blood Bank Refrigerator, Plasma Freezer, Chart Recorder, Blood Donor Couch, Blood Donor Chair, Camping Cot, Elisa Plate Analyser, Guidelines for Blood bank