Bacteriological Incubator (Scientific Lab Equipment)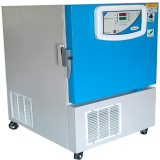 What is Bacteriological Incubator?
Bacteriological incubator is mainly used in drying of slides, tissue culture,incubation of anti body, paraffin embedding,incubation of hydroxy steroids, crystallization and microbiological determination.
Construction of Bacteriological Incubators Chamber:
Bacteriological Incubators manufactured by Meditech are sturdy, with double walled construction.Inner chamber made of Stainless Steel.
Outer chamber is made of CRCA Steel Sheet, finished with bacteria resistant powder coating.
Special grade glass wool is used for insulation and to avoid heat losses.
shelves are adjustable to set convenient height.
Shelves are also made of Stainless Steel SS304.
The Door has Anti-Fog Double glass window for inspection of samples without opening the door.
Heater is made of high grade imported nichrome wire are put inside the porcelain beads and placed at the bottom for uniform temperature all over the space.
Temperature Control :–
LED based smart controller is used to control Temperature from ambient to 80°C.
LED Based Display is provided with 12 types of Audio- Visial Alarm.
Ventilation :–
The Bacteriological Incubator is fitted with air ventilators on both side to remove gases and fumes.
Power Requirement :– 220V-50 Hz, AC supply.