7 days inkless chart recorder for blood bank refrigerator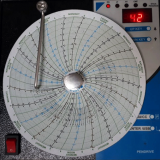 Meditech Inkless  Chart recorder
European CE Certified Products Presafe DGM897
Meditech technologies india pvt ltd is the largest manufacturer of inkless chart recorder in India. Meditech inkless circular chart recorder is an instrument used to record Temperature process in various industries such as Medical Blood Bank Refrigerator, Pharmacy, Textile Industry etc. Meditech chart recorders record data on paper. These paper is passed under a pressure sensitive pen which records signals on paper without using ink. The pen gets deglected according to the vaiation in the signals. A graph is plotted for 7 days. The recorder also has a pen drive facility to record reading and transmit electrically to a computer.
Meditech chart recorder is an economic device manufactured to meet market demands.
Inbuilt Refrigeration Controller
The Meditech inkless chart recorder has an inbuilt controller to control and maintain the temperature of refrigerator. Various indications are present. HI Temperature and Low temperature audio visual alarm is present. There is also an indication for compressor.