plasma blast freezer manufacturer India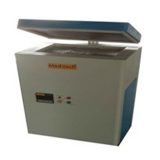 Plasma Blast Freezer
European CE Certified Products Presafe DGM897
Meditech is the largest manufacturer and exporter of plasma blast freezer in India. The Temperature range of plasma blast freezer is -30 °C. The Blast Freezer is controlled using 7 inch touch screen PLC controller. There is a Digital display of set value and process value of all parameters. The plasma bags are blasted down to a temperature of -30°C within 30 to 90 minutes depending on inlet temp of plasma to reserve AHF Factor. Meditech manufactures High Performance Contact Shock Freezers for Fast freezing of plasma and biological samples to a core temperature of -30 °C. All the quality certificates and  documents are included in the shipment along with plasma blast freezer during delivery.
Meditech plasma freezer uses Horizontal contact shock freezing technology for freezer and blast plasma, biological and pharmaceutical preparations. Meditech plasma freezer also considers all Safety law and compliance with directives for the preparation of plasma storage at a core temperature of less than -30°C.
Features of the horizontal contact shock freezing technology of Meditech Plasma Blast Freezer

The operation procedure is simple and intuitive. Evenly shaped bags are obtained after blast process for optimum utilization of storage options. Bar code reader can be an added advantage for further processing in automated systems. Meditech Plasma Blast Freezer has Shock freezing capabilities of several batches in succession without intermediate defrosting.

Features of Meditech Plasma Blast freezer
Plasma freezing to a core temperature of -30°C.
 Documentation – Automated and transparent freezing process.
Simple and intuitive operation of 7 inch touch screen controller.
The bags are shaped evenly for optimum utilization of storage options.
Possibility of Freezing of several batches in succession without intermediate defrosting.
State of the art compressor technology.
Air cooled condenser for MBF 12 and  MBF 21  and MBF21. Optional water cooling condenser for all above configuration.
Air cooled condenser and compressor can be made available as external unit.
The fixed cover plate has Separate refrigeration.
There is a separate freezing of the electrically adjustable plate and the fixed working surface of the table. Also separate freezing is given for the fixed cover plate and the electrically adjustable working surface of the lower table for model MBF 42.
Quick and easy loading and removal of plasma preparations.
Ergonomic design.
The preset and operating temperature of -50°C minimizes the risk of bags rupturing and damage.
Heavy duty castors with brakes helps in mobility.
High-grade stainless steel SS304 housing.
Construction is Compact, service and maintenance friendly. Easy cleaning and disinfection of machine.
Delivered Plug and play ready to use with power requirements of 3ph 400 V and  50Hz, 16A
Meditech is manufacturer of various blood bank equipments in India
Blood collection Monitor, Blood Tube Sealer, Blood Bank Centrifuge, Platelet Incubator Agitator, Plasma Thawing Bath, Cryo precipitate Bath, Plasma Extractor, Plasma Blast Freezer, Laminar Air Flow Horizontal, Blood Bank Refrigerator, Plasma Freezer, Chart Recorder, Blood Donor Couch, Blood Donor Chair, Camping Cot, Elisa Plate Analyser, Guidelines for Blood bank