Solar Walk In Freezer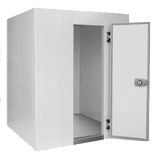 Solar Walk In Freezer
European CE Certified Products Presafe DGM897
Meditech technologies India Private Limited manufactures solar walk in Freezer in India. Solar Walk in Freezer is specially designed for remote homes, Unreliable grid, micro enterprises, Boats, Marine, Beverage Vending, Remote stores, Ice Making, Cabins, Eco-Resorts, farms, Medical Clinics, Missionaries, Disaster preparedness and mobile vendors.
Dimensions in meters
Models
Capacity
Internal
External
MTBBR
ltrs.
W
D
H
W
D
H
MTBBR80
8000
2
2
2
2.2
3
2.2
MTBBR125
12500
3
3
2
2.7
3.5
2.2
MTBBR187
18750
3
3
3
2.7
4
2.7
MTBBR225
22500
3
3
3
3.2
4
2.7
Reliable and  trouble free operation
Meditech Solar  Walk in Freezer is equipped with extra equipment capacity for unusual peaks in cooling and heating loads. Also, all Meditech refrigeration systems have safety features such as automatic compressor restarts. Such robust design-features help ensure continuous reliability of Meditech mechanical systems.
Active alarms = no loss of product
Alarms advise solar walk in freezer operators of fault conditions, but when specified, these circuits can provide other useful functions.
For example, if the room goes above the high alarm set point, the door heaters, lights, fans, and hot gas valves should be shut off automatically. Active alarms can help prevent "runaway" conditions rather than just announcing that a problem is occurring, and should be clearly specified by the designer in critical applications.
Meditech also provides SMS features that can be incorporated to send SMS to officer in case of alarms and emergency
Refrigeration controls
To avoid any confusion among suppliers, the solar walk in freezer room designer should clearly specify PID temperature controls when the uniformity requirement is ±0.1ºC. This will alert the vendor that controls suited only for cold storage rooms are not acceptable. Meditech uses PLC based touch screen controller for the application.