Blood Storage Refrigerator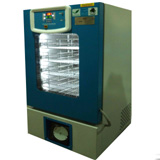 Blood Storage Refrigerator
GO-GREEN
Environmentally friendly blood Storage refrigerator powered by Meditech Technology for safe storage of blood bags.
Stable Temperature Control
Temperature is controlled by two sensors located in the liquid-loaded monitor bottles, which are in the shape of a blood bag. Two thermistor sensors constantly monitor the temperature in both the upper and the lower part of chamber. Microprocessor control ensures the most accurate temperature control available.
User Friendly Design
Selectable storage system Fluorescent interior lamp with ON/OFF switch and a large view window in the outer door provide a clear view of stored items Eye Level Digital display is easy to see, and is calibratable through the control panel Filterless construction eliminates bothersome filter cleaning
Download Blood Storage Refrigerator Catalog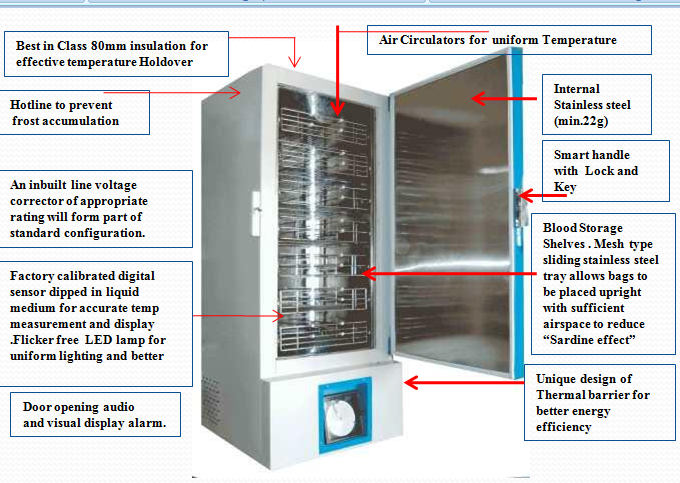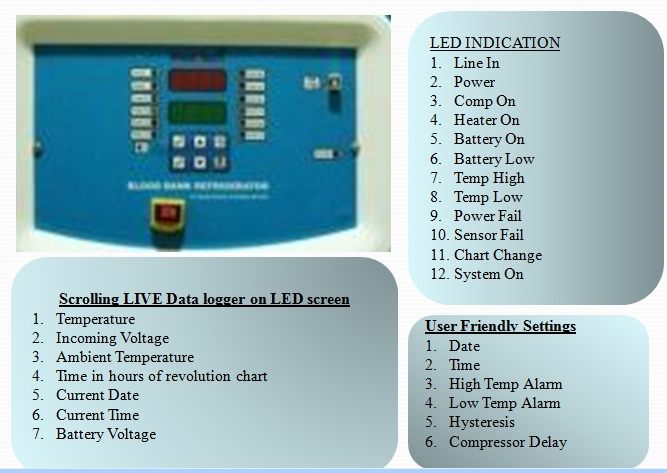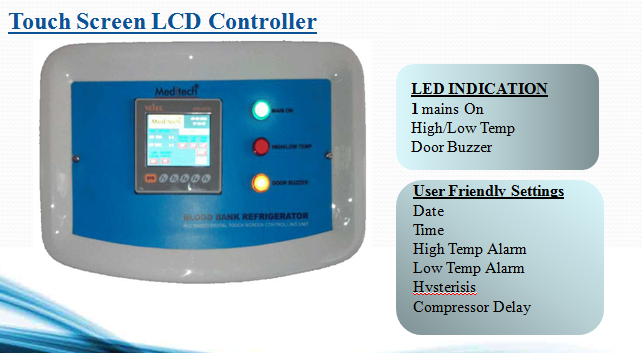 Designed to conform to AABB criteria, the series ensures stable and reliable temperature control utilizing Meditech original technology. A special highly efficient compressor designed and used by Meditech provides rapid cooling and quiet performance for each model.
Temperature Variations Prevented
The Meditech BBR Series is designed to minimize cold air loss even with frequent door openings. Separated transparent inner doors minimize the chamber air leakage during door openings. Foamed-in-place insulation in the walls and magnetic sealed outer doors with double-pane glass window prevent chamber air leakage and promote complete door closings Large air circulation fan enables rapid temperature recovery after door openings
Multi air-flow plenum system
Ensures excellent temperature uniformity in larger capacity models. Temperature-maintained defrost designed with thermal sensors and heaters on the evaporator, all under precise microprocessor control.blood bank refrigerator price
User Friendly Design
Selectable storage system. Fluorescent LED lamp with ON/OFF switch. Glass door provide a clear view of stored items. Eye Level Digital display is easy to see, and is calibratable through the control panel. Filterless construction eliminates bothersome filter cleaning
Alarm and Safety Functions
To ensure the safety of precious blood supply, the Meditech Series provides the following safety
functions of blood refrigerator
Audible and flashing LED visual alarms with remote alarm contacts, in case of power failure, high or low temperature
Door Alarm and key lock are standard features
Built-in temperature recorder in blood storage refrigerator
Technical Specification

 

Particulars

 

MTBBR1 LED

  

MTBBR1-Touch Screen

 

MTBBR2 LED

  

MTBBR2-Touch Screen

 

MTBBR3 LED

  

MTBBR3-Touch Screen

 

MTBBR4 LED

  

MTBBR4-Touch Screen

 

MTBBR5 LED

  

MTBBR5-Touch Screen

 

Temperature Control

 

PLC & Microprocessor

 

PLC & Microprocessor

 

PLC & Microprocessor

 

PLC &

 

PLC &

 

Microprocessor

 

Microprocessor

 

Display

 

LED

 

4″ LCD-Touch Screen

 

LED

 

4″ LCD-Touch Screen

 

LED

 

4″ LCD-Touch Screen

 

LED

 

4″ LCD-Touch Screen

 

LED

 

4″ LCD-Touch Screen

 

Internal Dimensions W x D x H [mm]

 

540 x 520 x 650

 

660 x 765 x 650

 

660 x 765 x 850

 

660 x 765 x 1050

 

660 x 765 x 1250

 

External Dimensions W x D x H [mm]

 

640 x 685 x 1185

 

800 x 945 x 1205

 

800 x 945 x 1435

 

800 x 945 x 1635

 

800 x 945 x 1835

 

Capacity [Liters]

 

120
215
310
410
500
Capacity of Blood Bags [ 450 ml/350 ml ]

 

56 / 72

 

120 / 150

 

180 / 225

 

240 / 300

 

300 / 375

 

Number of Drawers

 

2
2
3
4
5
Drawer Capacity

 

Maximum 28 / 36 bags

 

Maximum 60 / 75 bags

 

Temperature

 

Preset at 4°C ± 1°C

 

Temperature Alarm

 

High 6°C & Low 2°C, Audio Visual Alarm

 

Internal Body Material

 

Stainless Steel 304 ( AISI Grade, Non Corrosive, Non Magnetic )

 

External Body Material

 

Powder Coated CRCA Steel

 

Insulation

 

50mm Cabinet & Door

 

70 mm minimum for Body & 80 mm for for Door, CFC free polyurethane foam

 

Illumination

 

Fluorescent Lamp

 

Recorder

 

Seven Days Circular Chart Recorder

 

Noise Level

 

Less Than 65 db(A)

 

Battery Backup (Controller)

 

Rechargeable, Fully charged Sealed Maintenance Free battery runs for more than eight hours

 

Line Voltage Corrector

 

In built of suitable rating

 

Power Failure Alarm

 

Audio Visual Alarm

 

Electrical

 

220-240 Volts, 50 Hz, SINGLE PHASE

 
Download Blood Storage Refrigerator Catalog
STORING AND DISPATCH