Portable Refrigerator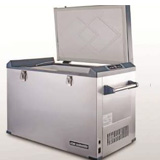 Portable Refrigerator
Meditech is the largest Portable Refrigerator manufacturers and exporters in India. Meditech offers a portable refrigerator with eco friendly refrigeration system. The refrigerator has a low electrical consumption and portable light weight capabilities.
Specifications of Meditech Portable Refrigerator
• Net Capacity : 85 Ltrs
• Temperature Range :-10 to +10 Degree C. It can be either used as Refrigerator or a Freezer.
• Refrigerant : Eco-friendly R134a.
• Insulation :  CFC Free PUFF.
• Input Power : DC42W or AC55W
• Power Supply : DC: 12V-24V and AC: 90-280V/50Hz
• Internal size : W600mm x D350mm x H448 mm
• External size : W802mm x D485mm x H568 mm
FEATURES
• Extremely powerful DC compressor.
• Portable Refrigerator can operate on UPS system.
• It can be carried on vehicles & powered by vehicle battery output directly.
• Low starting compressor current requirements.
• The Refrigerator is supplied with both 12-24 volt and 240 volt cords respectively.
• Good reliability and long life.
• Digital temperature controller with display
• Highly Compact size. It can be easily carried anywhere.
Download Blood Storage Refrigerator Catalog
1. Meditech portable refrigerator need less power than you think, and they don't kill your battery life.
2. The Portable refrigerator can be removed and put it back in with ease
3. The meditech Fridges are far better today than they were 10 years ago
4. Meditech refrigerator are useful for everyday life
meditech 12v refrigerator is used in bear country are fine. Two ways to handle.
1. Keep The Refrigerator covered with a blanket and you don't have to worry
2. Connect your refrigerator to battery outlet. this can last for 2 days
3. You can do both the things. Connect it to a battery outlet and wrap it with a blanket.
The Meditech is a powered chiller that will only handle 40 degrees cooler than the ambient temperature – on a 100 degree day