Digital physiograph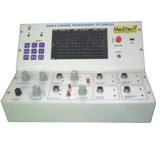 Meditech Student digital Physiograph is used for the recording of Bio-Electrical Potentials e.g. EEG,ECG,ENG,EMG,Pulse, Respiration, Blood Pressure etc. It is made of light metal for compactness and lightness. Its performance is outstanding due to adoption of integrated circuits.
Features
Indigenous Digital Physiograph with time and event channel.
Compact light weight and easy to operate by a beginner.
Stand alone unit having digital Physiograph has coloured TFT display for displaying online and offline recording data.
Systems have sic couplers fitted in as single unit easy to carry.
System have Eight transducers ( Force, Pressure, Volume, Respiration, Temperature, Pulse, Respiration Belt and Isotonic).
Facility to store recording data and review the same on TFT.
Interface to the computer – Through USB.
System provided with software to review and printing the recorder data from PC.
Biopotential Coupler
For recording all AC phenomena like ECG, EEG, EMG,ENG etc. It is supplied with 3 pin junction box, EEG-EMG electrodes and paste etc.
EKG Coupler
For recording clinical ECG. It is supplied with 5 pin junction box, Limb & Chest electrodes and Jelly.
Straingage Coupler:
For recording from all straingage transducers and used to record muscle activity force, effect of drug on heart activity, Blood pressure from cannulated animals, volume changes etc
Pulse-Respiration Coupler
For recording pulse or respiratory activity using pulse, respiration Belt or respiration transducers.
Temperature Coupler:
For recording internal or surface temperature through transducers.
Isotonic Coupler
Using it along with isotonic fine movement transducer one can perform experiment on isolated uterus and isolated intestine
Transducer
A Transducer is a device which converts one form of physical energy to electrical energy or vice versa. To record parameters which are not available in electrical form e.g. Pulse, Respiration, Temperature, Phono Cardiogramme etc., one needs to use appropriate transducer. We manufacture following transducers.
Technical Specifications
No. Of channels
1,2 & 3
Display & Size
Coloured TFT : 15.5 x 9.5 cm
Channel Width
80 mm
A/D Conversion
16-Bit A/D
Sensitivity
50,100,200,500 uv/cm and 1,2,5,10,20,50,100 mv/cm
Sweep Speed
0.5,0.1,0.2,1,2,5,10,20,50,100 div/sec
Data Sampling Frequency
> 256 Hz
Input Impedance
> 1 Mega Ohm
CMRR
> 80-85 db
Standard Accessories
Standard Accessories
ECG electrodes
1 set of 4 nos
EEG electrode
10 nos
Bio Potential Junction Box
1 no
EMG disc  electrodes
1 set of 10 nos
Ground electrode
1 no
EEG Paste
1 jar
ECG Jelly
1 bottle
Operating Manual
1 no.
Models Single Channel Physiograph MTDSP–S1 Two Channel Physiograph MTDSP–S2 Three Channel Physiograph MTDSP–S3