Hydroponic Sprout Barley Wheatgrass Corn alfalfa germination chamber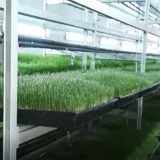 HYDROPONIC SPROUT GERMINATION PRODUCTION ROOM
Best Fodder for Buffalo, Goats, Chicken. Meditech is the largest manufacturer and exporter of hydroponic cattle feed growing system in India. These are special chambers which are used to maintain temperature, lights, humidity and co2 levels inside the chamber. Meditech hydroponic wheatgrass germination chamber has 7 inch Touch screen controller.
The hydroponic grass germination chamber is also used for growing barley for feed. The hydroponic grass growing system is designed exclusively for seed germination and seed storage and other research applications.Touch Screen Controlled LED Controller with 12 types of alarms, RTC, Date and Calendar and data logging options are standard features.
Growing barley grass in Meditech germination chamber for feeding barley to cattle is now a easy job. just set and forget. The hydroponic grass is ready in 7 days. Growing barley grass with yield of more than 7 to 12 kilograms from 1 kg of seed is possible only with the help of Meditech.
Hydroponic alfalfa grass can also be grown inside Meditech Hydroponic sprout germination production room. Hydroponic corn temperature and germination values can be set inside the touch screen controller to set up hydroponic feed.