Probe Sonicator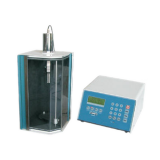 Meditech Technologies India Pvt. Ltd is the largest manufacturer and exporter of Probe Sonicator.
Ultrasonic Homogenizers are recommended for homogenization and lysis of laboratory samples that do not require traditional grinding or rotor-stator cutting techniques for processing.
The Meditech Technologies's Ultrasonic Homogenizers offer precision engineering with all the necessary features to create a total system for ultrasonic disruption. In biological applications, Probe Sonicator is often used to disrupt cell membranes and release cellular contents. Probe Sonicator is also used to fragment molecules of DNA. Probe Sonicator is commonly used in nanotechnology for evenly dispersing nanoparticles in liquids and for breaking down particles to nano size.
A Sonicator system comprises of 3 main components: generator, convertor and horn (probe). The generator transforms AC line power to high frequency electrical energy. The generator features a keypad or buttons which allows the user to control the Sonication parameters. The generator provides high voltage pulses of energy at a frequency of 20KHz that drives a piezoelectric convertor. The convertor is a cylindrical device which is connected to the generator by a high voltage cable. The convertor transforms electrical energy to mechanical vibrations. The vibration is amplified and transmitted down the length of the probe/horn.
Application
Prepare Tissue
Accelerate Enzymatic Reactions
Disperse Solids
Dissolve Powders
Extract DNA / RNA
Prepare Emulsions
Accelerate Chemical Reactions
Degassing of Liquids
Dissolve Tablets
Extract Proteins
Immiscible Liquids
Stimulate Bacterial Activity
De-agglomerate Powders
Emulsify Cosmetics
Emulsify Liposomes
* Needs to be specified in order information
Features
Large screen LCD
Full intensity control: Intensity is controlled from 1-100% giving a greater degree of resolution and ability to pinpoint the amplitude needed to effectively process sample.
Programmability: Parameters like total time, Pulse On Time, Pulse Off Time can be adjusted
Pulse mode: Adjustable Pulse On and Off time mode to reduce the heat rise in the temperature sensitive samples
Temperature monitoring: Integrated temperature control to prevent overheating of the sample
Model No.
Maximum Power W
Ultrasonic Frequency KHz
Sample Volume range

ml

Probes Supplied with machine mm
Optional Probes compatible with machine
PS 150
150
20-25
1-100
2
3, 6
PS 250
250
20-25
1-200
2
3,6
PS 500
500
20-25
10-500
6
2,3,8,10,12
PS 650
650
20-25
10-500
6
2,3,8,10,12,15
PS 950
950
20-25
10-600
6
2,3,8,10,12,15
PS 1200
1200
19.5-20.5
10-1000
10
2,3,8,10,12,15,20
Order Information
Model No.
Certification
Power Requirements
Accessories Supplied
PS 150
CE Compliant
220/230V AC 50Hz

110/110V AC 50-60Hz*

Generator and transducer depending on model selected

Covertor cable

One probe

Temperature probe

Power cord

Wrench set

Acoustic cabinet

Operation manual

PS 250
PS 500
PS 650
PS 950
PS 1200
Optional
Probes more than one as per selection are optional. Standard machine is supplied with only one probe.
Pharmaceutics Laboratory Equipments
Meditech Technologies is proud to launch new series of probe Sonicator as AUTOSCIENCES SERIES especially for Probe Sonicator and High Speed Homogenizers. The New series of Probe Sonicator PS are different from earlier UHB series in following features:
In built sound proof cabinet with light arrangement
Pulse ON and OFF Mode
Foot Switch arrangement
Tip selection modes on the control panel it self
Features
Features
Precise and convenient digital displaying and controlling.
Digital display can show you the output power directly.
Output amplitude can be adjusted from 0% to 100%.
Pulse width and interval time can be separately set.
It is timer controlled and can switch off automatically when the set time is run off. You can turn it off when necessary.
Various kinds of optional tips are available.
Temperature control: You can set the maximum limit of temperature after crossing that limit the working of Sonicator will automatically stop preventing degradation of sample.