Plant Growth Chamber MTR26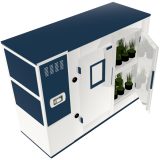 Plant Growth Chamber MTR26
Plant Growth Chamber Product Description
The Plant Growth Chamber MTR26 provides 26ft2 (2.4m2)of growth area and 24" (610mm) of growth height over two shelves. Plant Growth Chamber is suitable for a range of applications including the growth of short to medium height plants that require moderate light intensity. Standard is a closed-loop lighting system. The Plant Growth Chamber is shipped fully assembled, fits through standard doorways, and has a low overall height for confined ceiling spaces. Please consult Meditech with your particular application and area of research and we will provide you with an overview of the available options for Plant Growth Chamber
Specification Of Plant Growth Chamber MTR26


Temperature Range

+10°C to +45°C lights on

Growth Area

26ft2 (2.4m2)
Growth Height

24" (610mm) Plant Growth Chamber


External Dimensions

94.5" x 35" x 78" (2415mm x 890mm x 1980mm)


Internal Capacity

26ft3 (736l)


Electrical Service

120/208-3Ø-60Hz (220/380-3Ø-50Hz)

Light Intensity

600 μmoles/m2/s

Weight

1325lb (601kg)


Plant Growth Chamber Product Overview/Applications
The Plant Growth Chamber MTR26 provides 26ft2 (2.4 m2) of growth area and 24" (610mm) of growth height over two shelves and is suitable for a range of applications including the growth of short to medium height plants that require moderate light intensity. Standard is a closed-loop lighting system. The chamber is shipped fully assembled, fits through standard doorways, and has a low overall height for confined ceiling spaces. Please consult Meditech with your particular application and area of research and we will provide you with an overview of the available options.
Plant Growth Chamber – Lighting
The standard lighting system of Plant Growth Chamber uses both T8 fluorescent and halogen incandescent lamps resulting in a broad based lighting spectrum. Also standard is a closed-loop lighting system (programmed in micro moles) which allows for precise and repeatable control of light output while also automatically adjusting for lumen maintenance. Light intensity of Plant Growth Chamber is 600 micromoles/m2/s which is measured by a quantum light meter and transmitted to the controller for user readout. Lamp heat is controlled and managed by the refrigeration system in Plant Growth Chamber
Airflow – Plant Growth Chamber
Airflow inside the Plant Growth Chamber is distributed to the two shelves through two Meditech Uni-floor systems – one at the floor level and another just below the second shelf. The air is discharged upward resulting in uniform air distribution throughout the growth area of Plant Growth Chamber. The unit includes fresh air intake and exhaust ports which are adjustable to allow up to 20 ft3/min (0.57m3/min.) of air exchange.
 Refrigeration
Cooling for Plant Growth Chamber is provided by a self-contained water-cooled condensing unit with hot gas bypass for continuous compressor operation. An electronic modulating valve provides tight temperature control while ensuring quiet operation. Pressure transducers are included for monitoring the status of the refrigeration system in Plant Growth Chamber. Alternative refrigeration methods are available depending on site-specific and/or user-defined requirements Consult the factory for heat rejection information and other refrigeration options for Plant Growth Chamber
Experiment Protection
User programmable "set and forget" alarms track the chamber's operation versus user-defined set points. This allows for exceptionally accurate monitoring without the need for adjustment every time the set point is redefined. Backup "high/ low" alarms provide a further level of protection while visual and audible notification is provided when any alarm is activated in Plant Growth Chamber. Contacts for connection to a building management system are also included.
Key Product Attributes – Plant Growth Chamber
• 26 square feet (2.4 m2) growth area over two shelves for short to medium height plants
• Shipped fully assembled – fits through standard doorways
• Closed-loop light control with dimming ballasts in Plant Growth Chamber
• Product certifications/markings; CE