Incubator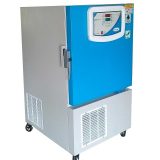 Incubator, Laboratory Incubator, CO2 Incubator
Our dependable Laboratory Incubators offer temperature ranges and uniformity to meet the needs of most incubator users. Whether gravity or mechanical convection, the choice is yours. The compact, low-cost Lab Incubators for the clinic or classroom are perfect for bacteriological cultures, hematology studies or for drying of stained microscope slides. Also, they take up less space on the lab bench.
CO2 Incubator
Today, the CO2 Incubator family incorporates more available options than ever before. Contamination Control A HEPA filtration system, the use of copper for key components, and effective cleaning of the inner chamber have proven to be most effective in the challenge to eliminate contamination. The Select Series and Personal Series of CO2 Incubators feature a patented Copper Coated HEPA Filtration System. CO2 Incubator Designs SHEL LAB CO2 Incubators combine contamination control, decontanimation, and precise temperature and CO2 control for years of constant performance through constant thinking.
General Purpose Incubators
General Purpose Incubators are available in sizes of 2 to 40 cubic feet. Laboratory Incubator applications are diverse because of the number industries and protocols they are used for, so we carry an Incubator family to accommodate a wide range of applications. Some applications include, biochemical studies, bacteriology, and hematological studies. General Purpose Incubator Applications Bacterial Culturing and Research Microbiological Determinations Pharmaceutical Stability Assays Food Processing QC Large Scale Roller Apparatus Applications.
Refrigerated Incubators, often called B.O.D Incubators or Low Temperature Incubators, are commonly used for applications such as B.O.D. Determinations, Plant and Insect Studies, Fermentation Studies, and Bacterial Culturing among many others. The Low Temperature Incubators have a temperature range of 20ºC below ambient to 45ºC. If your application requires light exposure you should consider the SL_LI15 Diurnal Growth Chamber. This unit comes equipped with four bulbs vertically mounted to the door of the incubator. Two independent timers simulate day and night cycles by controlling the interior lighting. This chamber is ideal for plant growth studies. Refrigerated B.O.D. (Biochemical Oxygen Demand) Applications Incubators enable end users to determine levels of organic matter and nitrogen in wastewater samples. This wastewater must be effectively measured for contaminates, treated and then released back into the environment without posing a threat to the water supply system. Recently, stricter enforcement by government regulatory agencies charged with monitoring air and water quality has forced a greater number of organizations to actively test and treat their wastewater. B.O.D incubators facilitate the storage of wastewater samples, and the SHEL LAB Low Temperature Incubators accommodate from 62 to 565 B.O.D bottles. Low Temperature Incubator Applications – B.O.D Determinations of Wastewater and Sewage APHA Method at 20ºC Plant Cell Growth Fermentation Studies Bacterial Culturing Mycology Studies
Some Shaking Incubator (Environmental Shaker) applications include cell culturing, cell aeration, and solubility studies. In addition to stable temperature conditions, environmental shakers use an orbital agitation at variable speeds to affect the growth of cell cultures. This is why the SL_SI6 and SL_SI6R Shaking Incubators have adjustable stroke lengths to accommodate various cells and applications. This gives you the flexibility to adjust the speed and orbit to meet your application. All models come equipped with a universal shaking platform , independent alarms, and microprocessor controls for temperature and speed adjustment. Shaking Incubator Applications Cell Cultures Cell Aeration Microbiology Increasing Solubility Rates Metabolism Studies Bacterial Cultures Bacteriology.