Deep Freezer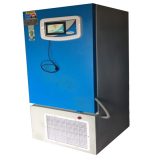 Touch Screen Deep Freezer, -20
Meditech is the largest manufacture and exporter of Touch Screen controlled Deep Freezer.
Environmentally friendly Ultra Deep Freezer, -20 degree powered by Meditech Technology for safe storage.
Stable Temperature Control
Temperature is controlled by two sensors located in the liquid-loaded monitor bottles,
Two thermistor sensors constantly monitor the temperature in both the upper and the lower part of chamber.
Microprocessor control ensures the most accurate temperature control available.
User Friendly Design
Selectable storage system LED interior lamp with ON/OFF switch
Eye Level Digital display is easy to see, and is calibratable through the control panel Filterless construction eliminates
bothersome filter cleaning
Alarm and Safety Functions
To ensure the safety of precious samples , the Meditech Series provides the following safety functions:
Audible and flashing LED visual alarms with remote alarm contacts, in case of power failure, high or low temperature
Door Alarm and key lock are standard features
Built-in temperature recorder.