Respiration Pump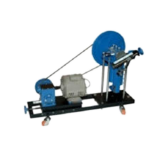 Meditech Technologies India Pvt. Ltd is the largest manufacturer and exporter of Respiration Pump.
Single cylinder pump with mechanically operated valve. All metal construction. The driving cone has 3 slots of 6″, 9″, 12″ diameter and is accurately balanced. A 0.25 HP motor workable on 220V AC 50Hz single phase operates with the pump.
The stroke is adjustable and is graduated up to 500 cc. Motor fixed on adjustable castor wheeled base.