Varnishing Outfit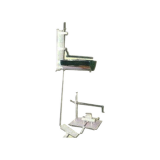 Meditech Technologies India Pvt. Ltd is the largest manufacturer and exporter of Varnishing Outfit.
Varnishing is done to fix the recording on the smoked paper. It is useful for varnishing cut papers up to 3 or 4 inch in length and any width not exceeding 10 inch.
Paper to be varnished is held by the two ends and passes under the round arm seen above the tray. This arm is carried on a sliding rod which is supported by spring and controlled by foot lever, after depressing the foot lever the paper is immersed in the varnish to a depth regulated by mild screw on the top of the rod. The paper is then drawn through and out of the varnish.