Environmental Test Chamber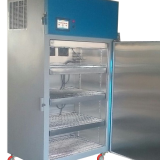 Meditech is the largest manufacturer and exporter of different types of environment test chamber in India. An environmental chamber is a climatic chamber used to test specified environmental conditions like Light, Temperature and Humidity on industrial products, biological items, electronic devices and components. An environmental chambers artificially replicates the test conditions such as extreme temperature, pressure, hot, cold, light, thermal shock, humidity, vibration, corrosion testing, salt spray, rain, sun, UV, vacuum and other parameters.
Application of Environmental test chamber
1. Testing of environmental effects on specimens
2. Preparation of test specimen for physical and chemical test
3. Plant Growth Chamber
4. testing of medicines and chemicals as stability chamber
The environmental test chambers vary widely in sizes ranging from benchtop to large walk in chambers. Large chambers have view ports and video feeds to allow visual inspection. Reach in chambers have ports that allow scientist to handle specimens under testing. Chambers also take in account of compensation of heat generated during lighting. These chambers are controlled using various types of controller ranging from PID, PLC and SCADA. A large touch screen is usually provided for digital readouts. Chambers are usually connected via LAN using TC P-IP protocol to connect to server and cloud networks.
Various types of environmental chamber manufactured by meditech are
Stability Chamber
Photostability Chamber
humidity chamber
Walk In Stability Chamber
BOD Incubator
co2 incubator
walk in cooler
walk in freezer